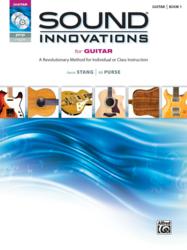 Los Angeles, CA (PRWEB) December 21, 2011
Alfred Music Publishing, the world leader in educational print music publishing since 1922, is proud to announce the release of Sound Innovations for Guitar, written by Aaron Stang (author and Grammy® Award-winning guitarist) and Bill Purse (Guitar Chair at Duquesne University). This revolutionary new method utilizes solid pedagogy and ground-breaking technology to provide students and teachers with the skills needed to play modern guitar—with a focus on real-world guitar skills.
Built with feedback from guitar teachers across the country, Sound Innovations for Guitar is the first guitar method to fully address the skills, techniques, and knowledge required by all guitarists in a solid, linear teaching method. Unlike other methods, Sound Innovations for Guitar starts off by teaching chords and notes on the low E string to promote fretboard understanding, build solid left- and right-hand technique, and to allow students to begin playing fundamental bass-line type rock and blues patterns right away. Lessons focus on learning all skills in the context of great repertoire ranging in style from folk to blues, flamenco, rock, and classical music, as well as core guitar skills like strumming and fingerpicking, chords, playing pivotal rock and blues riffs, improvising, reading music, and applying music theory. Focused goals and benchmarks are included, organized into six levels with clean page layouts for quick identification of concepts.
In addition, students can practice with the included DVD, which has three and a half hours of video lessons to explain and demonstrate all the concepts and techniques covered in the book. And, MP3 recordings of every example and song in the book, with play-along accompaniments, and specialized instructional tracks featuring concise explanations and demonstrations of all new concepts and techniques are embedded on the DVD. The built-in SI Player software allows tracks to be slowed down and sections looped for continuous practice. The book and DVD is designed so that even band, orchestra, and choral directors, with little experience on the guitar can easily teach a guitar class that really focuses on the skills and music young guitarists want and need.
The Teacher Edition, available in late Spring or early Summer 2012, contains lesson plans and suggestions for expansion and assessment. Additional reinforcement pages, supplementary materials, assessments, and much more for the method will be available online.
Visit alfred.com/SIguitar to learn more about the method and to view the Sound Innovations for Guitar trailer.
Sound Innovations for Guitar (00-37177) Book, CD & DVD is now available for $12.99 at music retail stores and at alfred.com/guitar.
REVIEW COPIES AVAILABLE UPON REQUEST
ABOUT ALFRED MUSIC PUBLISHING
Alfred Music Publishing is the world's largest educational music publisher. Alfred produces educational, reference, pop, and performance materials for teachers, students, professionals, and hobbyists spanning every musical instrument, style, and difficulty level. Alfred's home office is located in Los Angeles, with domestic offices in Miami and New York as well as offices around the world including Australia, Germany, Singapore, and the United Kingdom.
Since 1922, Alfred Music Publishing has been dedicated to helping people learn, teach, and play music. Alfred currently has over 90,000 active titles. Alfred represents a wide range of well-known publications—from methods like Alfred's Basic Guitar, Alfred's Basic Piano Library, Premier Piano Course, Sound Innovations, and Suzuki, to artists like Led Zeppelin, The Rolling Stones, Bruce Springsteen, Van Halen, Green Day, Michael Jackson, Sheryl Crow, Eagles, Cole Porter, and George and Ira Gershwin, to brands like Star Wars, Harry Potter, Lord of the Rings, Rolling Stone Magazine, and Billboard.
In addition to its own titles, Alfred distributes products from over 50 companies, including Belwin, Daisy Rock Girl Guitars, Dover Publications, DW Drums, Faber Music, Highland/Etling, Kalmus, National Guitar Workshop, Penguin, TASCAM, Ultimate Support, and WEA.
###