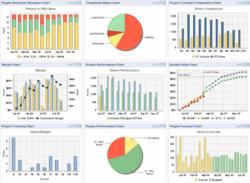 Sterling, VA (PRWEB) December 22, 2011
Unanet Technologies, the leading provider of cloud-based and on-premise software that helps project-based businesses improve visibility into work performed and scheduled, announces it's newly elected Board of Directors. New appointees include Jack Hughes, Principal and Founder of PHOENIX Financial and Advisory Services, LLC, Jack Kerrigan, Legal Counsel at Blackbird Technologies, and Morris Panner, CEO of DICOM grid.
Jack Hughes was the Executive Vice President and Chief Financial Officer of Alion Science and Technology Corp, a large engineering and technology federal contractor, where he was instrumental in the founding of the company and its rapid growth from $200M to $750M in five years. His career includes the position as Senior Vice President and Chief Financial Officer at BTG, Inc., where he conducted their IPO in 1994 and directed the rapid growth of the company over a six-year period from $50M to nearly $600M.
Jack Kerrigan currently serves as General Counsel of Blackbird Technologies, a Government contractor which supports the technical missions of the national security community. Mr. Kerrigan oversees compliance matters across Blackbird as well as the structuring and execution of Blackbird's strategic transactions. In 2008, the Washington Business Journal recognized Mr. Kerrigan as the "General Counsel of the Year" for the greater Washington, D.C. Metropolitan area. Prior to joining Blackbird, Mr. Kerrigan was an attorney in the Business Group at Cooley LLP. He received his J.D. and his bachelor's degree with distinction from the University of Virginia.
Morris Panner is currently the CEO of DICOM Grid, a cloud-based healthcare software company that manages diagnostic imaging and related healthcare data. DICOM Grid was named a FASTech Venture 50 company by the Wall Street Journal's Venture Wire in 2011.
They are joined by long-standing board members Patrick Mayworm and Unanet Founder and CEO, Fran Craig. Patrick Mayworm is currently Senior Vice President for Electric Vehicle Management (EVM) and International Corporate Development at GridPoint, a leading smart grid software and smart energy company based in Arlington, VA. In these two roles Mr. Mayworm leads the electric transportation business practice of GridPoint and is responsible for all international business development activities for the company.
Fran Craig noted, "I am delighted to have such experienced, proven industry leaders join our team. As we continue our growth, the expertise of this team will help guide our strategy and establish a solid foundation that will enable future success."
About Unanet Technologies
Unanet provides superior Services Automation software which maximizes staff utilization, reduces administrative costs by 90%, improves invoicing by 10X, and supports forward decision-making for improved profitability. Unanet's more than 800 customers include government contractors, consulting/services organizations, internal IT (Information Technology), and high-technology product companies. Unanet's suite includes resource management, opportunity/project management, timesheets, expense reports and collaboration with real time information and analytics, easy to use interfaces, and outstanding support. Unanet is available either as an Enterprise license (self-hosted software), or the On Demand License (hosted Software as a Service (SaaS)).
###