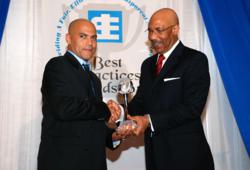 Kingston, Jamaica (PRWEB) December 21, 2011
Pan Caribbean Financial Services Limited (PCFS) received the Governor General 's Award for Excellence as the Overall Winner at the Jamaica Stock Exchange Best Practices Awards held December 7 at the Jamaica Pegasus Hotel. This is the third time PCFS has been awarded the highest honour by the regulatory body for publicly traded companies.
The Sagicor Group collected a total of seven awards at the ceremony to recognize listed companies and member dealers that have upheld best practices standards. PCFS was named the winner for: JSE Member - Dealers Revenue Generation and Market Activity, a new award this year; JSE Member - Dealers Investor Relations; Best Practices Annual Report and Best Practices Corporate Disclosure and Investor Relations. The parent company of PanCaribbean, Sagicor Life Jamaica, received two awards: 2nd Runner Up Best Practices Annual Report and 2nd Runner Up PSOJ's Corporate Governance.
Donovan Perkins, President and CEO of Pan Caribbean Financial Services says the company is honoured by the recognition. "I want to congratulate the entire team for their outstanding performance that has been recognised by the Jamaica Stock Exchange. We are particularly pleased to have received the Governor General's Award for Excellence once again. We have a talented and dedicated team that puts a lot of effort into ensuring that we meet or exceed best practices standards in service to our clients and shareholders."
PanCaribbean's credit rating was reaffirmed jmA+ by CariCRIS, the Caribbean's regional credit rating agency. PCFS was awarded the Investor's Choice Champion Company Award for 2010. The company is a member of the Sagicor Group and the Jamaica Stock Exchange.
###