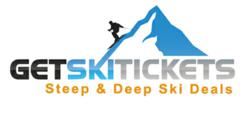 For skiers and riders, we provide a one-stop-shop for current lift ticket deals so people can ski more.
Denver, Colorado (PRWEB) December 22, 2011
GetSkiTickets.com currently provides lift ticket discounts for Colorado, Utah, New Mexico, California and Canada. "We're excited about our new resort partners and look forward to a long-lasting and mutually beneficial relationship," states Erika Troyer, Co-owner of GetSkiTickets.com. GetSkiTickets.com provides a marketing arm for ski resorts by promoting various lift ticket discounts, ski lesson deals and ski and snowboard rentals through their own marketing efforts. GetSkiTickets.com's, business model is cost-effective for resorts and provides value for skiers and riders.
Driving up I-70 in Colorado, you will inevitably pass by dozens of billboards promoting various ski resorts in the Central Mountains of Colorado. Advertising on these billboards is expensive, especially as it relates to midsized resorts that don't have near the budget as some of the mega-resorts. "The typical billboard can exceed $15,000 for a 4 week time period," states Mario Portocarrero, Account Executive for Mile High Outdoor Advertising. GetSkiTickets.com has no upfront advertising cost and instead gives exposure to resort offerings through its web site and reservation center. "We work on a commission basis which allows resorts to partner with us without having to sacrifice their marketing budget. For skiers and riders, we provide a one-stop-shop for current lift ticket deals so people can ski more," states Heather Quinn, Co-founder of GetSkiTickets.com.
Competition for online lift ticket dealers is heating up. GetSkiTickets.com is not alone in this marketplace. "At the end of the day, both resorts and consumers benefit from this new business model. Ski resorts are given a tremendous amount of exposure for skiers who are in the buying cycle. Consumers benefit by saving money so they can ski and ride more. It's a win-win situation," states Brandon Quinn, Co-founder of GetSkiTickets.com.
GetSkiTickets.com has recently partnered with Diamond Peak in Lake Tahoe, Mammoth Mountain in California, Snowbird Resort in Utah, SolVista and Sunlight Mountain in Colorado, along with Taos Ski Valley in New Mexico. They've also built strategic relationships with the Salt Lake Visitors Bureau which offers the Ski Salt Lake Super Pass; valid at Alta, Brighton, Solitude and Snowbird. They work closely with Colorado Ski Country USA to promote the Colorado Gem's Card, which provides various discounts and is good for skiing at nine of Colorado's small to midsized ski resorts for $10.00 per card.
Look for more discount lift ticket deals in the weeks to come as GetSkiTickets.com ramps up for the 2011/2012 ski season.
About GetSkiTickets.com:
GetSkiTickets.com is a company based in Denver, Colorado. Their primary business model is the marketing and distribution of lift ticket deals, rentals and lessons for ski resorts throughout North America. They also own GetSkiRentals.com along with GetSkiLessons.com. GetSkiTickets.com is niche snowsports company that focuses solely on getting more people skiing and riding through selling steep and deep ski deals in the US and Canada.
# # #