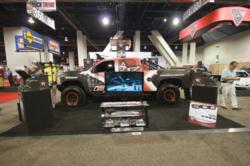 Having the Baja at off-road events and shows will provide fans of the industry with a first hand look at the capabilities of the new 2011 Chevrolet 2500 HD 4x4 as well as showcasing our world class LED Lighting Products!
Mesa, AZ (PRWEB) December 27, 2011
Rigid Industries, a global leader in the design and manufacturing of High Performance LED Lighting Products, was among 14 total winners for the Design Awards at the 2011 SEMA Show in Las Vegas, Nevada. The visionary minds at Rigid Industries combined leading-edge technology, innovative aftermarket products and legendary design to complete the 2011 Chevrolet Silverado 2500HD 4x4.
The concept behind the new "Baja" Silverado was to build the best off-road vehicle possible. Equipped with high performance technology and aftermarket hop-ups, the vehicle is now among the elite in conquering the most remote and rugged of terrain. Announced in late September, Project "Baja" Silverado was released at the SEMA Show 2011 just one month later. Being the premier automotive specialty products trade event in the world, the show attracted more than 132,000 automotive professionals from more than 100 countries. Rigid Industries' booth was a must see for all attendees at the show and featured Rigid Industries' E-Series, SR-Series, D-Series and Marine Series product lines, with the "Baja" Silverado parked center stage.
The GM Design Awards are an annual program that recognizes SEMA show exhibitors who showcase the most outstanding combinations of innovation, creativity, personalization and performance in their vehicle and product designs. GM designers tour the specialty vehicle and equipment industry displays to identify the best project vehicles, public cars and components.
"The road for the Silverado doesn't end with SEMA. It will be making appearances at up to 32 race and off-road related events and shows this coming year. We also plan to put the truck to work as support for our many off-road race teams. Having the Baja at off-road events and shows will provide fans of the industry with a first hand look at the capabilities of the new 2011 Chevrolet 2500 HD 4x4 as well as showcasing our world class LED Lighting Products, " said Taylor Anderson, VP of Sales and Marketing for Rigid Industries.
Winning "Best New Chevrolet Truck", Rigid's Project "Baja" Silverado was an all encompassing effort, from all those involved. The "Best New Chevrolet Truck" was fitted with the highest quality products from some of Rigid Industries' partners. Included in that list are BFGoodrich, Wicked Creations, FiberwerX, Kicker Audio, Active Grafix, Keyston, Monster Energy, Pure Performance, Orlando Auto Body, Lowrance, P.C.I. Race Radios, Motor Mega Sports, Addictive Desert Designs, Magnaflow Exhaust, BTR Racing Wheels, Race Truck Factory, F-Word Industries, sPOD, F-Word Industries, X-Metal, Bully Dog and Chevrolet. For more information on Rigid Industries please visit our website at http://www.RigidIndustries.com.
About GM Design:
General Motors Design is the first and largest global automotive OEM design function with a network of 109 Design Centers in eight countries around the world. Over 1,800 men and women are responsible for the design development of every GM concept and production car and truck globally. The Design Centers are located in the United States, Germany, Korea, China, Australia, Brazil and India.
About Chevrolet:
Founded in Detroit in 1911, Chevrolet celebrates its centennial as a global automotive brand with annual sales of about 4.25 million vehicles in more than 120 countries. Chevrolet provides consumers with fuel-efficient, safe and reliable vehicles that deliver high quality, expressive design, spirited performance and value. The Chevrolet portfolio includes iconic performance cars such as Corvette and Camaro; dependable, long-lasting pickups and SUVs such as Silverado and Suburban; and award-winning passenger cars and crossovers such as Sonic, Cruze, Malibu, Equinox and Traverse. Chevrolet also offers "gas-friendly solutions including Cruze Eco and Volt. Cruze Eco offers 42 mpg highway while Volt offers 35 miles of electric, gasoline-free driving and an additional 344 miles of extended gasoline range, according to EPA estimates. Most new Chevrolet models offer OnStar safety, security and convenience technologies including OnStar Hands-Free Calling, Automatic Crash Response and Stolen Vehicle Slowdown. More information regarding Chevrolet models, fuel solutions, and OnStar availability can be found at http://www.chevrolet.com.
About Rigid Industries:
Established in 2001, Rigid Industries has become a world leader in the vehicular mounted LED Lighting Industry. Rigid LED Lighting Products can be used for Off-road LED Lighting, Military LED Lighting, Agricultural LED Lighting as well as Marine LED Lighting. Rigid Industries is committed to supporting their customers and the industries they work in by continuously developing new product lines to meet their needs. Rigid Industries now has design, customer service, sales and manufacturing all headquartered in Mesa, Arizona. For more information please visit http://www.RigidIndustries.com.
# # #