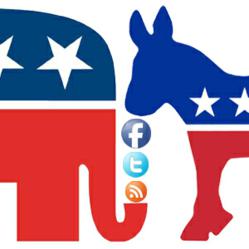 Ann Arbor, MI (PRWEB) December 23, 2011
PPC advertising on search engines is an extremely efficient and highly customizable way to directly target potential voters. Ads are triggered by certain keywords – in this case primarily the names of the contenders – and the advertiser pays only if a user clicks on the ad. Ads can be targeted geographically, by state, county, city as well as by language (English/Spanish). Changes can be made within minutes by an experienced digital marketing agency.
Ad campaigns can also quickly and efficiently test different slogans and messages before applying them to the entire campaign. Google AdWords lets advertisers assign numerous ad variations to the same set of keywords. The Michigan SEO company can display ads in rotation and it quickly becomes clear which ads generate the highest clickthrough rate. As a result, the low performing ads can be eliminated and successful ads can be refined through the introduction and rotation of subtle variations. This method will lead to the most effective tagline and ad text for the campaign and Ingenex Digital can provide a great boost for 2012 politicians looking to stand out and win the election.
Search engine users are the best focus group that political campaigns can find in an instant, because they represent a random sample of potential voters and they are completely unaware that they are part of a test group. The clickthrough rate for the ad variations will indicate which ad message resonates most with the public. The most successful tagline/text on Google could then also be incorporated into print campaigns, press releases, etc.
"In 2012, we will be taking a special interest in Pay-Per-Click advertising for political campaigns," said Derek Mehraban, CEO of Ingenex Digital. "We feel this will be the difference in some close elections and want to help boost campaigns using digital marketing strategies and get politicians on Google for their 2012 campaigns."
Political advertising on Google is also important as it can target different geographic regions. The political Ann Arbor pay-per-click experts at Ingenex Digital will help your campaign stand out, and give you a competitive advantage whether you are running for a local election or a national election like congress, senate, or more.
About Ingenex Digital Marketing:
Ingenex is a Digital Marketing agency with offices in Ann Arbor, MI and Chicago, IL that provides a full suite of digital marketing services including mobile application development, Interactive Branding™, web site design, search engine optimization, pay-per-click management, optimized public relations, direct marketing, social media marketing, email marketing, web-driven event marketing, generational marketing, podcasting and blogging. For more information please visit http://www.ingenexdigital.com.
###