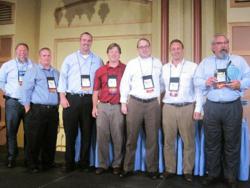 We're deeply honored to receive this award
Yorba Linda, CA (PRWEB) December 22, 2011
Energy-efficient lighting manufacturer Precision-Paragon [P2] has received a Lumina award from the National Association of Lighting Management Companies (NALMCO).
The award was announced at the NALMCO awards banquet, the culmination of the association's annual convention and trade show in Orlando, Fla.
"We're deeply honored to receive this award," said Joe Martin, [P2] Vice President and General Manager. "Our company is proud to support an association that does so much for the lighting industry."
The Lumina award is given annually, at the discretion of the NALMCO president and executive committee, to recognize special merit in "commitment, loyalty and dedication to the leadership of NALMCO."
The 2011 award went to Precision-Paragon [P2] in recognition of the company's remarkable promotion and support of the organization.
At the annual NALMCO convention and trade show, lighting maintenance and retrofit professionals from across the country convene for three days of educational, professional development and networking opportunities.
Even before the awards banquet, [P2] was heavily involved in NALMCO's annual convention and trade show. At the start of the convention on Sunday, two [P2] employees took their NALMCO certification exams. [P2] also sponsored NALMCO's New Product Breakfast Monday morning of the convention.
On the second day of the convention, Mark Lien from [P2]'s parent company Hubbell Lighting Inc. gave a presentation on the future of lighting. And, at the awards banquet marking the conclusion of the banquet, several [P2] employees were honored for taking their NALMCO certification exams this year.
"This year's NALMCO convention was a wonderful experience," said Martin. "We now have 15 NALMCO-certified professionals at [P2], we had a chance to spend time with the people who are out in the field installing our products every day, and we get to come home with a Lumina award."
About Precision-Paragon [P2]: For nearly 20 years, [P2] has made high-quality, indoor-and-outdoor light fixtures for just about any setting—including retail, commercial and industrial spaces. [P2]'s energy-efficient lighting drastically cuts energy consumption, creating big cost savings and significant environmental benefits.
Over the last two decades, [P2] has earned a reputation for going the extra distance in customer support by producing high quality, American-made products. [P2] products are manufactured in Gainesville, Fla., Hudson, Wis., and at the company's headquarters in Yorba Linda, Calif.
Web site: http://www.p-2.com
###