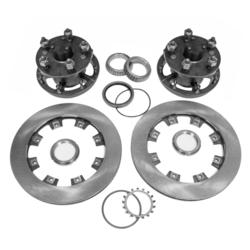 Shave 11 lbs. off of your rear axle assembly.
Tallmadge, Ohio (PRWEB) December 22, 2011
Summit Racing Equipment's new Circle Track Wheel Hub Assembles allow racers to remove unsprung weight for better acceleration. The Circle Track Wheel Hub Assemblies feature lightweight steel hubs with a black powdercoat finish, and come complete with rotors, steel drive plates, bearings, seals, O-rings, wheel studs, lug nuts, and anodized aluminum dust caps.
Applications: Grand National style 9" Ford rear axles with a 5 x 4 3/4 or 5 x 5 bolt pattern.
Part numbers: SUM-CTGNHRK-5 (5 x 5 bolt pattern), SUM-CTGNHRK-4 (5 x 4 3/4 bolt pattern)
Other Stuff Worth Knowing: Summit Racing offers the wheel hubs as a separate item, and stocks Grand National rear axle assemblies and components as well.
Where to get one: Order online at SummitRacing.com or call Summit Racing at 1-800-230-3030.
###