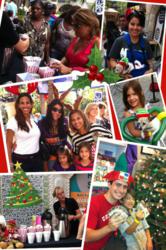 Miami, Florida (PRWEB) December 22, 2011
Lead by volunteers, Fellowship Church came out in full force to join with the community of Coconut Grove to spread some Christmas spirit to South Miami. Thousands turned out for this free community event with family friendly attractions and Santa Claus himself.
Events like this provide a much needed outlet for families struggling in a sluggish economy. For a few moments, a crowd that represented many walks of life shared one common Christmas experience. Lines in other venues may be filled with impatient shoppers, but these lines were full of cheerful parents and children full of anticipation.
This community wide event featured free face painting, pictures with Santa, balloon animals and a petting zoo. The highlight of the day was the mountain of shaved ice providing a "winter wonderland" on a beautiful South Florida afternoon. Fellowship Church joined in the fun by serving free hot chocolate as well as free candy and Christmas music to all those in attendance.
Pastors Ed and Lisa Young of Fellowship Church are spreading the joy of Christmas at events like this all across Miami. They are also hosting three Capturing Christmas services that are open to everyone in the community. Event dates are December 18, 10:30am and 11:45am, plus a Christmas Eve service on December 24 at 6:00pm. All services will be held at Fellowship Church, for location and directions visit the website.
At a time when many families are hurting, Ed Young and Fellowship Church provide the community a good reason to celebrate during this holiday season.
About Fellowship Church
Fellowship Church is more than just one dynamic church in five diverse locations. Fellowship Church, led by Pastor Ed Young, is a community of people led by Christ to bring hope, strength, and change to the world.
To learn more about Fellowship Church visit: [http://www.facebook.com/pastor.ed.young, http://www.oneplace.com/ministries/ed-young-ministries/ or [http://www.vimeo/ey
Press Contacts:
Andy Boyd
Fellowship Church
andy(dot)boyd(at)fellowshipchurch(dot)com
972-471-5700
Casey McCann
Fellowship Church
casey(dot)mccann(at)fellowshipchurch(dot)com
972.471.5700
NOTE TO EDITORS: For additional information visit Fellowship Church News Room, or call Fellowship Church (972) 471-5700. Fellowship Church and the Fellowship Church logo are trademarks of Fellowship Church. Other company and product names may be trademarks of their respective owners.
###