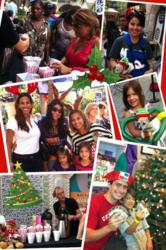 In Fort Worth we made a special connection with the NASJRB. Initially we were asking our members to provide for forty families, but the response was so overwhelming we had to create a donor waiting list. The initial vision for assisting a few families blo
Forthworth, TX (PRWEB) December 23, 2011
Fellowship Church Fort Worth Campus, led by Pastors Ed and Lisa Young, hosted an impromptu Christmas party and presented gifts to over 132 children from the Naval Air Station Joint Reserve Base (NASJRB) this past weekend. The NASJRB is made up of approximately 40 separate commands, with over 10,000 active duty military, Guardsmen, Reservists, and civilian employees.
The effort is a small part of a larger initiative called "From Our House to Theirs" which involved all five Fellowship campuses in Grapevine, Dallas, Plano, Fort Worth and Miami, Florida. Each campus selected families and groups to meet the Christmas wishes and needs of children in their local area.
"In Fort Worth we made a special connection with the NASJRB. Initially we were asking our members to provide for forty families, but the response was so overwhelming we had to create a donor waiting list. The initial vision for assisting a few families blossomed into an unexpected larger initiative, " said Chris Prater, Fellowship Fort Worth Campus Pastor.
To accommodate more families and the outpouring of those wanting to help a Christmas party was planned. Families were served snacks, created a personalized ornament for the tree, took family photos and received their gifts to take home for Christmas morning.
"Sunday was amazing - very emotional and humbling. We are thankful for Fellowship Church. They continue to bless the members of our armed forces and their families. We are grateful, " said a NASJRB Representative.
About Fellowship Church
Fellowship Church is more than just one dynamic church in six diverse locations. Fellowship Church, led by Pastor Ed Young, is a community of people led by Christ to bring hope, strength, and change to the world.
To learn more about Fellowship Church visit: http://www.oneplace.com/ministries/ed-young-ministries/, http://twitter.com/edyoung, EdYoungBlog.com or http://www.vimeo.com/ey.
Press Contacts:
Andy Boyd
Fellowship Church
andy.boyd(at)fellowshipchurch(dot)com
972-471-5700
Casey McCann
Fellowship Church
casey.mccann(at)fellowshipchurch(dot)com
972-471-5700
NOTE TO EDITORS: For additional information visit Fellowship Church News Room, or call Fellowship Church 972-471-5700.
Fellowship Church and the Fellowship Church logo are trademarks of Fellowship Church. Other company and product names may be trademarks of their respective owners.
# # #