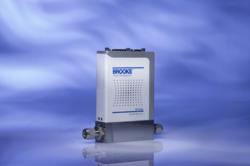 Hatfield, PA (PRWEB) December 23, 2011
Brooks Instrument, a world-leading provider of advanced flow, pressure, vacuum and level solutions, introduces the GF40 and GF80 thermal mass flow controllers (MFCs). These MFCs provide outstanding performance, reliability and flexibility in many gas flow measurement and control applications.
The Brooks GF40/GF80 offers a highly configurable platform based on modular architecture, enabling drop-in replacement for quick and easy upgrades. These mass flow controllers give users an opportunity to standardize on one MFC over a broad range of applications providing reduced inventory and operational costs.
The GF40/GF80 mass flow controllers operate with Brooks' patented MultiFlo™ technology enables superior actual process gas accuracy. MultiFlo also gives users the ability to reconfigure the MFC for a new gas and range without the time and cost of removing the device from the gas line. The MFCs are also equipped with an independent diagnostic/service port to troubleshoot or change flow conditions without removing the MFC from service.
Brooks GF40/GF80 mass flow controllers features fast sub one second settleing times and corrosion-resistant Hastalloy sensor tube for long-term stability. The superior valve technology provides minimum leak-by, maximum turndown and fast response which reduces overall gas panel cost and increases throughput. Additionally, the measurement accuracy of every device is verified using traceable primary calibration standards.
For more information about GF40/80 thermal mass flow controllers, visit http://www.brooksinstrument.com.
About Brooks Instrument
Brooks Instrument, LLC, based in Pennsylvania, is a company of highly trained specialists whose goal is to provide flow solutions that exceed customer expectations. The Company has a proven history of innovation including the first pressure transient insensitive (PTI) mass flow controller, the first watertight and explosion proof thermal mass flow controller (Mf Series), the first thermal mass flow controller with Foundation Fieldbus (SLA Series), the first variable area flow meter with Foundation Fieldbus (MT3809 & MT3750), and the first miniaturaized Coriolis mass flow controller (Quantim). Today, Brooks Instrument's portfolio includes glass and metal tube variable area flow meters (rotameters), thermal mass flow controllers and meters, Coriolis mass flow controllers and meters, pressure control products, vacuum capacitance manometers, magnetic level instruments, and a variety of flow accessories. The Company also owns Key Instruments which offers precision machined acrylic flow meters, molded plastic flow meters, glass tube flow meters, electronic flow meters, and flow control valves. Brooks Instrument has manufacturing locations, sales, and service offices in the Americas, Europe, and Asia. For more information on flow solutions, products, or sales contacts please visit http://www.BrooksInstrument.com.
###