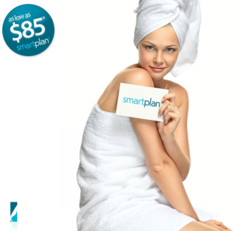 The SmartPlan program for EvoDerma LUMI hair removal systems
Montreal, Canada (PRWEB) December 21, 2011
Canadian skin care and hair removal company EvoDerma, have announced a new way to buy their flagship LUMI™ IPL hair removal system online. In an effort to make the LUMI™ system available to a wider range of customers, a new and convenient payment plan called SmartPlan is being introduced.
This financing option will only be available to American and Canadian residents and can be applied to the purchase of one LUMI hair removal system per eligible customer. For complete terms and conditions, please visit the EvoDerma website. The new SmartPlan will allow clients the ability to pay for either the Limited Edition or regular LUMI™ system in convenient monthly installments billed directly to their credit card. All payments must be made on a credit card labeled VISA or Mastercard.
The LUMI™ system uses Intense Pulsed Light (IPL) to permanently reduce the growth of unwanted hair. The evoDerma research and development team put years into perfecting their premium light-based hair removal device, in an effort to take home hair removal to a new level of sophistication. IPL is widely considered one of the safest and latest technologies in permanent hair removal procedures. Nowadays, more home based IPL systems are designed to efficiently and painlessly remove unwanted hair by regular people without any specific training.
With the new SmartPlan program, eligible customers will be able to purchase either the Limited Edition LUMI or the regular LUMI Hair Removal System according to two financing plans:

The retail price of the Limited Edition LUMI is CAN $649. With SmartPlan, the upfront payment is $299 followed by four automatic monthly payments of $95. Along with the system itself, the Limited Edition LUMI™ comes in a luxury box, complete with LUMI IPL protective eyewear, LUMINANTE™ ultra soothing after-care lotion, one disposable lamp cartridge, AC cords and user manual.
The regular LUMI system comes with the home based IPL hair removal device, one disposable lamp cartridge, a user manual and AC cords. The retail value is normally $499, however with the convenient SmartPlan program, customers will just need to make an upfront payment of $199, followed by 4 automatic monthly installments of $85.
The SmartPlan program is only available on the hair removal systems and does not include accessories such as the protective eyewear ($79), extra LUMI lamp cartridges (2 for $99) and the LUMINANTE™ ultra soothing after-care lotion ($59).
About EvoDerma
EvoDerma Inc. spent years developing cutting-edge hair removal and skin care products. They continue to do so through countless hours of research and testing. All EvoDerma products are safe, cost-effective, and utilize the highest technical advancements in the industry. The LUMI™ IPL hair removal device is a true testament to the company's efficiency, quality, and safety commitments.
###