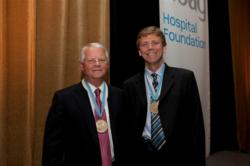 Newport Beach, CA (PRWEB) December 23, 2011
Hoag Memorial Hospital Presbyterian today announced that two new medical chairs have been created in order to further advance Hoag as a leader in cardiovascular surgery and gastrointestinal cancer. Renowned cardiovascular surgeon Aidan Raney, M.D., Hoag medical director of cardiovascular surgery, has been named The James & Pamela Muzzy Endowed Chair in Cardiovascular Surgery and digestive disease expert John C. Lipham, M.D., Hoag Foregut Cancer Program Director and Chief of USC Affiliated Academic Programs has been named the James & Pamela Muzzy Endowed Chair in Gastrointestinal Cancer.
"The funds from the endowed chairs will allow Hoag to stay on the leading edge of improving technology and programs for our patients in cardiovascular surgery and gastrointestinal cancer," said Richard Afable, M.D., Hoag president and chief executive officer. "The concept of endowed chairs puts Hoag on the same playing field as leading academic institutions and we look forward to developing these world class programs in order to provide the highest quality care to the community we serve."
Dr. Raney, in collaboration with his colleagues at Hoag Heart & Vascular Institute, has built a team of surgeons, nurses and technicians that have been consistently ranked number one in overall heart patient outcomes in Orange County and one of the top heart surgery programs in California. Dr. Lipham is a recognized expert in digestive diseases, specializing in complicated disorders of the esophagus and stomach. He completed a fellowship in esophageal surgery under nationally renowned physician Tom DeMeester, and brings to Hoag the minimally invasive techniques he pioneered at USC.
Dr. Raney and Dr. Lipham were honored for their appointments at the inaugural Hoag Hospital Foundation's Endowed Chair Investiture Ceremony on December 7. Jim and Pam Muzzy, the generous donors who made the endowed chair positions possible, were also present at the ceremony.
"We are very thankful for Jim and Pam Muzzy's commitment to Hoag's growth and advancement in these important areas," said Flynn A. Andrizzi, Ph. D., president, Hoag Hospital Foundation and senior vice president for development at Hoag.
Long-time Hoag benefactors, the Muzzys are generous and committed supporters of the arts, education and healthcare as well as other philanthropic causes.
"Hoag Hospital is one of the nation's finest medical centers, and Pam and I are honored to be able to invest in the future technology and treatment for these diseases," says Jim Muzzy, one of the founding partners of PIMCO, a groundbreaking global bond management firm. "From its physicians to its nurses to its administrators, Hoag combines leading health care with genuine compassion for everyone it treats, we're excited to watch Hoag grow and provide the most advanced medical care available to Orange County residents."
There are now six endowed chair positions at Hoag, enabling Hoag to expand and improve programs in cancer, cardiac care, memory loss and cognitive impairment, neurosciences and now cardiovascular surgery and gastrointestinal disease.
List of Endowed Chairs to Date:

Grace E. Hoag Executive Medical Director Chair, The Hoag Family Cancer Institute– Dr. Robert O. Dillman
Judy and Richard Voltmer Chair in Memory Loss and Cognitive Disorders, Hoag Neurosciences Institute– Dr. Rodham Shankle
Robert and Georgia Roth Chair for Excellence in Cardiac Care– Dr. Dipti Itchhaporia
Ron and Sandi Simon Executive Medical Director Chair, Hoag Neurosciences Institute – Dr. Michael Brant-Zawadzki
The James and Pamela Muzzy Endowed Chair in Cardiovascular Surgery – Dr. Aidan Raney
The James and Pamela Muzzy Endowed Chair in GI Cancer – Dr. John Lipham
About Hoag Memorial Hospital Presbyterian
Hoag is a not-for-profit regional healthcare delivery network in Orange County, California that treats nearly 30,000 inpatients and 350,000 outpatients annually. Hoag consists of two acute-care hospitals, seven health centers and five urgent care centers. Hoag Hospital Newport Beach, which has served Orange County since 1952, and Hoag Hospital Irvine, which opened in 2010, are designated Magnet hospitals by the American Nurses Credentialing Center (ANCC). Hoag offers a comprehensive blend of health care services that include five institutes providing specialized services in the following areas: cancer, heart and vascular, neurosciences, women's health and orthopedics through Hoag's affiliate Hoag Orthopedic Institute. Hoag has been named one of the Best Regional Hospitals in the U.S. News & World Report Metro Edition. National Research Corporation has endorsed Hoag as Orange County's most preferred hospital for the past 15 consecutive years and for an unprecedented 15 years, residents of Orange County have chosen Hoag as the county's best hospital in a local newspaper survey. Visit http://www.hoag.org for more information.
# # #