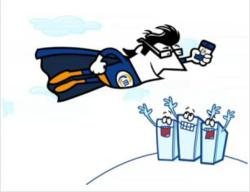 Monitoring and managing an IT software or cloud service shouldn't be harder than following a person on Twitter or friending somebody on Facebook.
Boca Raton, FL (PRWEB) December 22, 2011
Moesion, http://www.moesion.com, is a cloud-based solution that enables the management of IT systems from a smartphone or tablet without the need to install expensive software or be on a computer with corporate network access. Running on Android, iPhone, Windows Phone, iPad or Android tablets, Moesion is an enterprise mobility platform that allows IT professionals to work directly in each application's native interface to diagnose and fix problems.
Moesion brings IT system management to the era of enterprise mobility. Providing a visual interface to manage dozens of different applications including all Windows Server processes and systems, Internet Information Services, BizTalk Server, SharePoint Server, Azure Services, and hundreds of custom scripts, Moesion enables companies to manage their IT systems and cloud services from a smartphone or table at anytime from anywhere in the world.
Moesion also enables IT Pros to use their own scripts to manage their infrastructures. Moesion is a constantly expanding platform and is currently being extended to allow the management of Citrix services as well as Microsoft System Center and VMware.
With Moesion, Tellago Studios is moving forward with its goal of making enterprise software simple, social, secure and mobile. With a published roadmap at http://www.moesion.com/roadmap, Tellago Studios is also on the verge of releasing its first major enhancement for the Moesion platform – enterprise notifications…or what it calls Twitter for your IT systems.
"Monitoring and managing an IT software or cloud service shouldn't be harder than following a person on Twitter or friending somebody on Facebook." says Co-Founder and CEO Jesus Rodriguez. "We're close to releasing a super-cool new feature that allows you to subscribe to well-known events in your IT systems directly from your smartphone or tablet. We're using advanced data processing techniques to process and classify events using terms that make sense for your IT organization. The notification features of Moesion will bring this already revolutionary platform to a whole new level to enable our customers to be more productive – and in greater control – of their IT systems."
You can find blog posts with tons of information and several informative videos at http://www.moesion.com/category/blog. Or, you may wish to try it directly by signing up for a free trial, and see if you can answer the question Tellago Studios is posing to all its customers – why wouldn't you use this?
About Tellago Studios:
At Tellago Studios, we are focused on developing innovative and useful enterprise software.
Tellago Studios is a software company founded in 2010 with a simple but powerful idea: Make enterprise software modern, simple and sexy again. We go to work every day to build awesome software that makes our customer successful by bringing the best of modern technology paradigms into the enterprise world. Currently, we are immersed in innovating using revolutionary technology movements such as cloud, mobile and social computing to reinvent enterprise software for the next generation of IT.
For more information please visit http://www.tellagostudios.com.
###