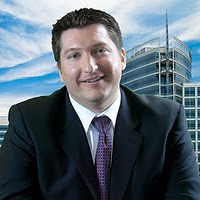 We advocate intensely for the tax client, which means we negotiate directly with the IRS.
Phoenix, AZ (PRWEB) December 23, 2011
Debt, tax relief, and Mesa Bankruptcy Lawyer Lawrence 'D' Pew, the founder and managing attorney for the Pew Law Center in Mesa, Arizona, has received a 9.5 rating of Superb from Avvo, Inc., a respected independent attorney-rating service. News of Mr. Pew's Avvo recognition first appeared in the October/November Top Lawyer's segment of the North Valley Magazine.
In his debt and tax relief practice, Mr. Pew is a formidable advocate for his clients. With the firm's mission to "always exceed clients' expectations," Mr. Pew's professionalism, compassion, and sincere desire to help his clients through difficult financial circumstances has resulted in the highest marks from the Pew Law Center's clients and attorney peers.
During an interview, Mr. Pew commented on the unique issues facing clients with unpaid taxes. "When the IRS knocks at the door," said Mr. Pew, "people are frightened. They don't have the money to pay the assessed tax. They certainly don't want to go to jail. They don't know where to turn for advice and advocacy." When asked how the Pew Law Center assists clients with back tax issues, Mr. Pew continued, "We advocate intensely for the tax client, which means we negotiate directly with the IRS. Sometimes we seek an offer in compromise, sometimes a lien release and penalty abatement, there are a lot of options available and we don't skip any."
When asked about his Avvo rating, Mr. Pew generously shared the credit, "Of course, I am just delighted with the recognition. But I know that it takes a dedicated tax team of professionals to accomplish everything that we do here at the Pew Law Center."
# # #