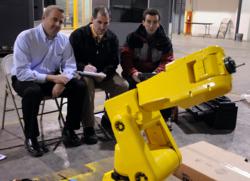 Actual hands-on experience with the technology that students will be using in their careers will give them that much more of an advantage
Marion, OH (PRWEB) December 22, 2011
As an industrial robot integrator, RobotWorx usually sells and designs robotic systems to companies manufacturing parts, palletizing products, or performing some other industrial process. Occasionally, however, the north-central Ohio robot integrator gets the chance to integrate an industrial robot arm into an educational institution.
Chambersburg Area High School in southern Pennsylvania contacted RobotWorx with the desire to buy a small industrial robot for teaching purposes.
Ray Setaro teaches industrial safety, electronics, and automation/robotics at Chambersburg Area High School. He and colleague Jon Seaman, who teaches agriculture technology, spoke with RobotWorx salesman Jim Shaffer about a FANUC ArcMate 50iL robot arm that would allow them to teach general programming and programming for automated welding.
Setaro and Seaman agree that industries in their county are seeking a workforce with a technology-based education. Both have toured most factories and manufacturers in their area and report a "hunger for high-tech workers."
"Industries are coming almost panicked asking the district to help prepare future employees," Seaman adds.
Setaro went on to talk about how many school do, in fact, offer robot education, but it is not the same technology that they will encounter in the workforce. Robots used in many high school programs and clubs simply navigate mazes and perform simple tasks for points at competitions. The Chambersburg Area High School curriculum will now include training on an actual industrial robot.
"STEM education in any form is going to be beneficial to students in the long run, but actual hands-on experience with the technology students will be using in their careers will give them that much more of an advantage," said Shaffer.
RobotWorx is an integrator of industrial robots located in Marion, Ohio. As a FANUC Authorized Integrator, Motoman Solution Provider, and KUKA Official System Partner, RobotWorx designs robotic systems to automate many industrial applications including welding, material handling, and cutting. For more information about RobotWorx or industrial robotics, visit http://www.robots.com.
Photo credit: Bill Sinden, Marion Star
###