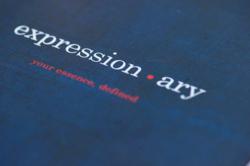 Atlanta, GA (PRWEB) December 22, 2011
The Expressionary, the Web-based service behind a new personalized dictionary gift concept, is announcing the launch of its "New Year's Gadget Giveaway" contest. Simply by connecting with The Expressionary on Facebook or Twitter, entrants can win one of two (2) Amazon Kindle Fire tablets or one of two (2) iPod Touch devices.
The Expressionary, which launched in open beta November 2011, is a new Web-based service which allows customers to define what their loved ones mean to them with a thoughtful gift. Customers are invited to upload photos of their family members, friends or partners and define their feelings for them by picking the 10 words that best describe them with the help of the custom word recommendation engine, KHARIS. The result is a customizable, personalized dictionary – an Expressionary – that features 10 photos of loved ones next to the words that best describe them.
Twitter Kindle Fire Giveaway
The Expressionary is giving away two (2) Kindle Fire tablets to its Twitter followers. To enter the contest, entrants must follow @MyExpressionary and tweet the following message exactly as shown (alternatively, they may click here):
"The Expressionary is giving away Kindle Fire tablets! RT to enter. Details: http://ow.ly/85X3W #ExpressionaryGiveaway @MyExpressionary"
Entrants may tweet the message once per day (exceeding this limit will result in disqualification). Additionally, entrants must not have a default avatar image on their Twitter profile. Winners will be announced on @MyExpressionary and the Expressionary blog on January 16. Winners will be contacted via Twitter Direct Message, so entrants must be following @MyExpressionary.
Facebook iPod Touch Giveaway
The Expressionary is also offering its Facebook fans the opportunity to win one of two (2) iPod Touch devices. To have a chance of winning, entrants must Like The Expressionary Facebook Page at facebook.com/expressionary and provide their name and email address in the "Gadget Giveaway" tab on the Page.
The winners will be announced on The Expressionary Facebook Page and the Expressionary blog on January 16. Winners will be contacted via email.
Both contests will close on January 15 at 23:59:59 EST. Winners will be selected by random drawing. Participants must be aged 16 or older and must be U.S. residents. Full terms and conditions are available here.
About The Expressionary
Expressionary, LLC – a subsidiary of M&W, LLC – was founded in September 2011 by William L. Mehserle, Jr. and Michael J. Flanigan, both graduates of Georgia Tech. The company's website, theExpressionary.com, launched in open beta on Nov. 23, 2011. The Expressionary concept was born during Mehserle's high school years, as he was searching for a sentimental and meaningful gift for his then girlfriend. He purchased a dictionary, and pasted his favorite photo of her beneath the words that he felt best described her and their relationship. The full backstory can be found at The Expressionary's website.
An Expressionary is a luxury personalized dictionary containing fine paper pages, beautiful covers, a letter in the front of the dictionary explaining the concept and high-quality photos. Additionally, The Expressionary is committed to donating at least 10% of all profits to charity. Customers can choose which of The Expressionary's charity partners they'd like a donation to go to.
###