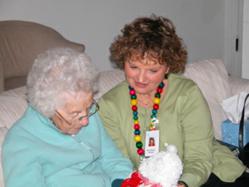 Dementia can make it increasingly difficult to pay a visit to a loved one, because they may not recognize or be able to converse with you. Pathways provides basic tips on visiting dementia patients.
Sunnyvale, California (PRWEB) December 22, 2011
Visiting a loved one who is suffering from dementia can be frustrating and heartbreaking. A progressive disease, dementia can make it increasingly difficult to pay a visit to a loved one, because they may not recognize or be able to converse with you. Pathways Home Health & Hospice provides basic tips on how to make visits to a dementia patient more meaningful and how to re-frame the goals for the visit.
There is a good reason to visit a dementia patient, even though it seems that the person doesn't realize you are there. Visitors do make a difference. As the disease progresses the purpose of each visit will change, and there a few basic steps you can take to make the visit enjoyable for both you and your loved one.
The visit begins with you at home by gathering some supplies that might help with interaction. These may include bringing music, a newspaper column or a book to read aloud, a photo album, a letter from a mutual friend to share, or a picture book with large colorful photos. Use your imagination and everything you know about the person to come up with ideas of things to share.
The Visit
Begin with the basics. The visit will be more successful if the resident is clean, dry, fed and comfortable. Check with the facility staff or caregiver to find out an optimal time for a visit.
Pain can sometimes appear as negative behavior. People with dementia may withdraw, strike out or display other "bad" behaviors when in pain. If you have seen behavior changes that you suspect may be due to discomfort, you may want to ask the caregiver about pain management.
Think about providing comfort through the senses including touch, sound, communication, sense of smell, taste, textures and comfort.
Some examples include:

Holding hands, putting an arm around the person or giving a back rub or hug. This conveys acceptance, nurturing and caring.
Brushing their hair and applying lotion to the skin often has a soothing affect.
Soft music can be very soothing to an agitated patient.
Bring in CDs or tapes of his favorites and a CD player to play them on.
Avoid talking down to your loved one. Despite that they seem unaware, recent research shows people with dementia are more agitated when talked to this way.
Just chatting can be very reassuring.
Maintain their dignity.
Remember to speak slowly. People with dementia take longer to process what you have said.
Bring a rose, a lavender sachet, or a scented candle that smells like pumpkin or apple pie.
A favorite perfume or aftershave can brighten spirits.
Bring in a favorite food or drink. The resident may love Fritos or M&Ms and they won't be on the menu in assisted living.
Bring unusual textures, such as soft fur or a smooth, cool stone.
Wrapping someone's hands or feet in a hot, wet towel might feel very soothing and relaxing—the spa treatment!
Open a window to feel a breeze.
Care for yourself
Be aware of your feelings before, during and after the visit. If you believe you need additional help in understanding your feelings, check with your doctor or find a caregiver's support group.
For additional information on visiting dementia patients or for care-for-the-caregiver tips, go to the resource page on Pathways Home Health & Hospice's website.
About Pathways Home Health & Hospice
http://www.pathwayshealth.org/
Pathways Home Health & Hospice is a non-profit community based organization. Founded in 1977, Pathways now serves over 5000 families annually in five Bay Area counties. We care for patients in their place of residence, whether it be their home, hospital, nursing home or assisted living facility. Affiliated with El Camino Hospital and Sequoia Hospital since 1986, Pathways is accredited by The Joint Commission and is a member of the Visiting Nurses Association of America, California Hospice & Palliative Care Association, the California Association of Health Services at Home, and the National Hospice & Palliative Care Organization.
Donations received from the community by Pathways Home Health & Hospice provide services that would otherwise not be available, including 24/7 access to a specialized team of care providers, family bereavement counseling and support, integrative therapies, caregiver support, comfort care, and funding for under- and uninsured patients.
###