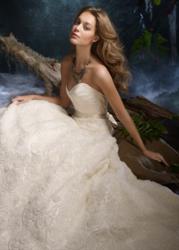 I would love a mermaid style dress that shows off my curves but gives poof at the bottom that I've always dreamed of. The more sparkle the better!"
Los Angeles, CA (PRWEB) December 22, 2011
Robbins Brothers, The Engagement Ring Store partnered with Mon Amie Bridal Salon to give future brides a chance to win their dream bridal gown in the holiday sweepstakes, 12 Wedding Dresses for Christmas, and today the companies reveal the winners. Contestants were asked to visit a Robbins Brothers location to complete a quick electronic form with a description of their ideal wedding dress in 300 characters or less.
The twelve lucky winners, one per Robbins Brothers store, who will enjoy a White Christmas this holiday season are Sarah Lewis (Fullerton), Reyna Hernandez (Woodland Hills), Elizabeth Hoyt (Torrance), Hannah Pawlowski (Montclair), Heather LaRocque (San Diego), Katie Hendry (Mission Viejo), Jennifer Loya (Glendale), Delia Gonzales (Riverside), Katelyn Herald (Houston), Nikky Hess (Baybrook), Tara Smith (Dallas), Gloria Diaz (Arlington). Each winner will receive a $1500 gift certificate for their wedding dress.
Tara Smith, the winner from Dallas shared in her submission, "I would love a mermaid style dress that shows off my curves but gives poof at the bottom that I've always dreamed of. The more sparkle the better, and figuring out the rest I just know your advisors will help me with!" She also admits, "The hard part's really over--I found the love of my life!"
"We know that once the bride receives her dream engagement ring, she immediately begins to envision the beautiful wedding dress she'll wear to walk down the aisle," said Diane Ferraro, director of advertising for Robbins Brothers. "Wedding expenses add up quickly and we're beyond excited to spread some Christmas cheer amongst these winners," commented Shawna Stanger, director of merchandising for Mon Amie. "This is a holiday they'll always remember and we're grateful to be a part of it."
When notified that she was the winner from Torrance, Elizabeth Hoyt said "I couldn't ask for a better Christmas present! I just got engaged last week so this is such an amazing surprise!"
About Robbins Brothers
An engagement and wedding ring retail company with freestanding stores located in Southern California, Houston, and Dallas/Ft. Worth, Texas, Robbins Brothers serves as the destination for couples in love. While the company specializes in engagement ring settings and loose diamonds, it carries an extensive selection of wedding bands, promise rings, anniversary bands, three-stone rings, earrings, pendants and bracelets. The company features designers including Scott Kay, Simon G., Tacori, Verragio, Coast Diamond and Jeff Cooper. Onsite jewelers are available to set diamonds, design custom-settings and perform service and maintenance checks. Each location is furnished with a refreshment lounge and relaxation area, television and children's play area. For more information visit http://www.robbinsbrothers.com.
About Mon Amie
A third-generation family business with 35 years experience in the bridal gown industry, Mon Amie Bridal Salon is well-respected and trusted by brides to help them make the important emotional choice of choosing the perfect wedding dress. Behind the large 20,000 square foot façade, Mon Amie is dedicated to providing the highest level of quality, service & selection and presents one of the largest and most exquisite international designer collections on the West Coast. Over 50 designers are featured ranging from couture to more moderately priced gowns. In addition to bridal gowns, Mon Amie presents ensembles for the Mothers, Grandmothers, & flower girls dresses. Individual departments cater to the special needs of the wedding party and also provide a vast selection of shoes, lingerie, jewelry, headpieces, veils and other wedding day accessories. For more information visit http://www.monamie.com.
###