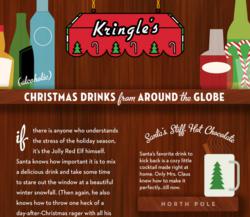 While it's fun to imbibe laughter and good cheer, it never hurts to imbibe a little something extra during the holidays.
South San Francisco, CA (PRWEB) December 23, 2011
Treetopia ™, a leading online source of fun and funky artificial Christmas trees, invites visitors to warm up this winter with holiday cocktails from across the globe. The store has compiled a list of 7 international favorites in a handy Christmas cocktail infographic, which is currently ready for viewing on its website, Treetopia.com. The Santa's Mixed Christmas Drink Recipes from Around the World infographic comes complete with instructions, allowing everyone from distinguished chefs to homemaking hobbyists to sample just what Christmas tastes like in other cultures.
"Christmas is a very festive time," explains Treetopia ™ spokesperson Carrie Chen, "and we were looking for a unique way to express that this season."
"That's aside from our trees, of course," Chen adds. Treetopia ™ is known for selling unique-looking artificial Christmas trees, such as a black-and-white striped zebra tree and an eye-catching model that stands upside-down.
Visitors to the website can find quirky concoctions such as Paris' "Gingerbread Sacrifice", a fruity mix of vodka, orange liqueur and apple cider topped off with a gingerbread man. Those who prefer more exotic flavors can learn how to make Tokyo's "Sugar Plum Fairy", which uses plum sake as its main liquid.
No holiday infographic would be complete without one of Santa's favorites, and so Treetopia ™ included the pride of the North Pole, "Santa's Stiff Hot Chocolate". The potent potable spikes traditional hot chocolate with dark rum and cinnamon, adding an invigorating touch to the holiday classic.
After jotting down a few notes for their Christmas parties, visitors can also check out the Christmas tree sale currently running on Treetopia.com. The store gives people even more reason to celebrate with savings on artificial Christmas trees. The site's wide variety of products includes traditional trees alongside funky, colored ones in the Christmas tree clearance sale.
"While it's fun to imbibe laughter and good cheer, it never hurts to imbibe a little something extra during the holidays," say Chen. "Between our holiday cocktail infographic and Christmas sale, I think we've got pretty much everything covered."
About Treetopia ™: Treetopia.com is an online store featuring a diverse selection of artificial Christmas trees. From traditional Christmas trees to colored Christmas trees and lighted palm trees, Treetopia has something for everyone. They sell exclusively online through http://www.treetopia.com.
# # #