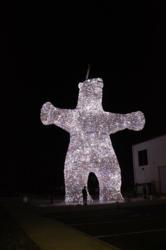 Our technology allows us to bring pieces of art into the world in an infinite number of ways and that is why our business is exploding.
Portland, Oregon (PRWEB) December 22, 2011
Additive Workshop announces record growth since its acquisition by Masterpiece Investments in 2010. The company has seen their business increase by 40% while exponentially expanding creative opportunities for artists and a wide range of clients including Wynn Resorts, Disney, Cirque du Soleil, Nike, Adidas, Universal Studios, Michael Curry Design, 2010 Winter Olympics, and the 2011 Arab Games.
As the first artist owned, run and operated Digital Scanning & Sculpting Studio, Additive Workshop is using 3-D computer modeling and printing, to help artists increase their production up to 350%, while still preserving the integrity of their work. Additive's technology creates exact replicas of artwork, recreating the art as it was originally meant to be without the inevitable reinterpretation. This allows artists to focus more time on creating new pieces of art while technology focuses on expanding their reach and growing their business.
"Additive Workshop bridges the gap between the real world and the virtual world," said Mark Ghiglieri CEO and founder of Masterpiece Investments. "Our technology allows us to bring pieces of art into the world in an infinite number of ways and that is why our business is exploding. Everyone from museums to movie studios needs our help to create incredible works of art in a short amount of time."
Additive's technology starts with a triple light scanner that is used to take 3-D computer models of any piece of art. The scan is then transferred to a 3-D photo rapid prototyping system which can build 3-D models with details as small as .0006 of an inch. This means Additive Workshop can recreate an exact replica of any piece of art at any size – making an artist's whole collection scalable or turn a small piece of art into a 30 foot monument in only a matter of weeks, not months or years.
For large scale projects, the company uses a robotic arm with a 7-axis machining center to create replicas of art from scanned data up to any size. One of Additive Workshop's most significant projects, a in collaboration with Michael Curry Design, is the Spirit Bear that appeared in the Opening Ceremony of the XXI Olympic Winter Games in Vancouver. Standing at over 65-feet tall, the Spirit Bear is one of the largest puppets ever made. During the ceremony, it rose from the stadium floor and hovered over the performers on a simulated ice floor.
"We are always looking forward, ensuring we have the latest and greatest in technology so we stay cutting edge. I see a day in the future where we can scan and produce pieces instantly" said Mark Ghiglieri.
About Additive Workshop
Masterpiece Investments Corporation includes six divisions: the Fine Art Gallery Division, the Charitable Division, the Bullion Division, Masterpiece Galleries through the Patron Company, the Additive Workshop Subsidiary Division and the Chiurazzi Foundry Subsidiary Division. Additive Workshop is a sculpting studio and 3-D workshop which specializes in combining traditional sculpting methods with cutting-edge technologies. Additive Workshop can create three dimensional images of any magnitude to any conceivable scale with perfect accuracy. In addition, Additive Workshop offers a full range of services, including computer aided design, 3-D modeling, scanning, bronze casting, resin casting, mold making, model analysis, reproduction, and milling. For more information visit http://www.mpi100.com.
###