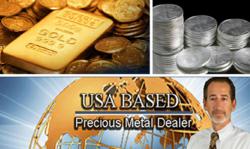 Major Dynamic Market Shifts are Coming in 2012!
Hollywood, FL (PRWEB) December 22, 2011
At Smith McKenna precious metals trading advisors, Steve Smith, CEO, has a knack at accurately forecasting gold, silver, copper and other precious metals commodities trends. "The latest movements in spot prices in copper and silver were totally predictable, considering the time of year and the projected demands from the Chinese and developing nation's economies. We took full advantage, again." He promises that 2012 will be a huge wealth creating opportunity, if you're positioned correctly. "Major dynamic shifts are coming."
"Wealth is created by being in the right market, in the right direction, at precisely the right time."
For over 20 years, Steve Smith has worked as a commodity trading advisor, parlaying his practical experience to benefit his clients. Global news, academics, charts and political data determine how he positions every investment. At his company, Smith McKenna, this wealth building information reaches their clients and followers in real-time via Twitter, Linked In, and email blasts. All information is analyzed and applied proactively to maximize investment returns. Steve Smith is dedicated informing investors of wealth creation through precious metals investing.
"You must have accurate investing information and know how to use It to be a successful gold, silver and other precious metals investor."
Steve Smith so much believes that knowledge is the key to profitable investing, that he is giving away a free book, to the first 100 people that just ask for it. Just go to the website , and simply fill out the request form. He also makes available, free of charge, his weekly investing calendar to the public.
For more information on Steve Smith and Smith McKenna LLC, visit their website http://www.smithmckenna.com or follow on Twitter @Metal_Investor.
4238 Hollywood Blvd. #206
Hollywood, Florida 33021
888-415-4909
ssmith(at)smithmckenna(dot)com
###