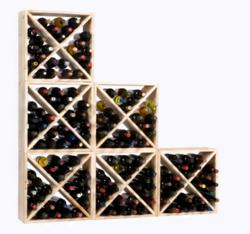 "We ensure that each rack we create is built for life,"
Olympia, WA (PRWEB) December 23, 2011
In the early beginnings of what is now known as the WineRackStore, Owner Mike Kitson had the hard decision of choosing which woods to create his beautiful wine racks and wine cellars with. After much deliberation, trial and error,redwood came out on top. Later adding the just as durable oak to the mix, WineRackStore is now well regarded for their lifetime guarantee on all racks.
"We ensure that each rack we create is built for life," said Kitson. "We are proud to put our name on all of our wooden wine racks." Redwood and oak are well known for their durability, resistance to rot, and ability to thrive in indoor and outdoor settings. Redwood and oak had also been used to erect many historic wood structures that are still around today.
More specifically the wood the wine rack store chooses to craft their products are beautifully grained and customers have long been satisfied with the detail in their wooden wine racks, weather they choose clear coated or stained. "I was hesitant to order stain my new wine rack because of the chance that the wood would loose that great natural detail," said a customer from New Jersey, "however, the stain I choose not only did not cover the graining, but made it appear more brilliant."
Another great reason for making the chose to go with redwood was due to its sustainability. According to the California Redwood Association, "Approximately 80 percent of the available redwood commercial forest are certified under one of the two most widely recognized certification programs: Forest Stewardship Council or the Sustainable Forestry Initiative program."
Reducing their carbon footprint is something the WineRackStore has long been apart of with their continued recycling practices and use of water based stains and lacquers. Additional to their specialty redwood and oak wine racks and wine cellar creations; WineRackStore does carry metal, plastic and pine options.
WineRackStore.com has been selling quality pre-made and custom built wine racks, cellars and wine accessories since 1995. WineRackStore.com is A+ rated from the Better Business Bureau. All products are locally crafted in Olympia, WA and are shipped free anywhere in the U.S.A.
# # #