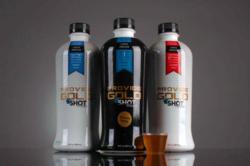 We bring a sustainable solution to the athletes who care about their long term body health, and still value rapid results.
Layton, Utah (PRWEB) December 27, 2011
ProGoldProtein.com is now offering a medical grade collagen protein product as an alternative to potentially harmful products on the market today. It is medical grade without the medical price.
The Medical Grade Protein has been traditionally used in hospitals and retirement homes as a means of support to patients recovering from surgeries or injuries, suffer from muscle reducing conditions such as cancer, AIDS, or advanced age, and is also beneficial for those with bone or joint conditions such as osteoarthritis or osteoporosis.
The company addresses some of the main concerns with the more mainstream means of supplementing diets that are commonly found in the athletics arena. Especially many of the complaints voiced by users of whey protein powder drinks. Unlike many mainstream supplements, such as whey products, the collagen protein avoids many of the common side affects such as bloating, poor absorption, and damage to the liver and kidneys among other things.
"It is interesting how some of the most educated people on health and nutrition are those who are also willing to take ongoing, supplements, or even drugs that are known to be harmful to the body, or are known to contain harmful chemicals or even heavy metals," says Mike Oakden, Director of Operations and natural body builder. "If you look at body builders of decades past, and you compare those with most body builders of today, there is a definite visible difference in the overall appearance and muscular shape. This is mainly because of the bloating and inflating nature of most whey protein supplements, and the hormones they use. We bring a sustainable solution to the athletes who care about their long term body health, and still value rapid results."
If a product works so well for people who use it to support their muscle and joints in every day life, and in healing, it only makes sense to provide a supplement geared toward athletic recovery to athletes.
The predigested collagen protein distributed by ProGoldProtein.com has been further fortified with taurine. The taurine has many benefits, not the least of which is to prevent exercise-induced oxidative stress. It also aids in digestion, which is why it's a required component of baby formula.
As an extra bonus, collagen taken orally has been shown to improve the appearance and strength of hair, skin and nails. Collagen Protein taken orally is commonly used cosmetically for maintaining youth in Japan, there aren't many liquid collagen drink products here in the west at this time.
ProGoldProtein.com plans to keep its eye open for and add new products as they become available, so long as they fit the company's ideals of being a healthy, natural, and sustainable solution for athletes.
But it's not only for athletes. "While the main intent of this product was to be brought to the world of athletes, we very highly recommend this product for any elderly loved ones, it's a basic building block that was originally designed for them in hospitals and retirement homes," says Mike Oakden.
About ProGoldProtein.com
ProGoldProtein.com is a distributor of natural, healthy, sustainable muscle growth and retention products. ProGoldProtein.com values responsible supplementation and encourages athletes, body builders, and others to take responsibility for their sustainable health and wellness.
Mike Oakden, Director of Operations
http://www.progoldprotein.com
801-660-9461
###