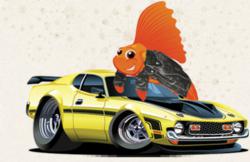 Bottom line any way you slice it we are talking a a lot of money to drive a decent car.
San Diego, CA (PRWEB) December 21, 2011
RoadFish.com, men's magazine, released its comparison today on the most cost effective way to drive a reliable "huge" SUV. The results of the comparison show that for someone who wants to drive an extra large SUV, a 2010 fully loaded Suburban may be the best choice.
The comparison compares the 5 year cost of ownership of a 2010 Suburban fully loaded, with a 2010 Chevy Tahoe, a 2010 Ford Expedition, a 2010 Ford Explorer, a 2010 Toyota Forerunner, and a 2010 Toyota Land Cruiser. The source of the information used for the comparison was from Edmunds TCO (True Cost of Ownership) tool.
David Klein, author of the article is quoted as saying, "In the past few years driving the largest SUV's has become unpopular, and even considered a sin by some. For some of us, who drive long distances, can afford the gas, and carry lots of stuff and people, it is just the most practical car there is."
In the article, author David Klein says, "Bottom line any way you slice it we are talking a lot of money to drive a decent car. All of these options come out to around $1,000 a month if you have checked your credit report and its good."
In the end the article concludes that the most cost effective method may actually be to simply rent a large SUV on an ongoing basis, but in the end, no matter how you slice it, it is going to cost about $1,000 per month to drive a car like this.
RoadFish.com is an online Men's magazine targeted toward men in their 30's and 40's who have already attained a moderate level of success in life, and are striving toward more. It goes over current events of interest to this group, as well as ways to make more and save more money. It is a publication owned by Purpose Inc.
# # #