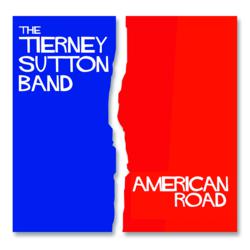 "Soft as silk and smooth as fine bourbon" ~ Chicago Sun Times
Los Angeles, CA (PRWEB) December 21, 2011
The Tierney Sutton Band, a collaboration that has spanned over 18 years, has produced a catalog of nine extraordinary, critically acclaimed, chart-topping recordings. American Road, their latest and debut on BFM Jazz, just earned the ensemble their fourth consecutive GRAMMY® nomination in the Best Jazz Vocal Album Category and their first for Best Instrumental Arrangement Accompanying Vocalist, a category that covers all musical genres, for the track "On Broadway," the early '60s Barry Mann-Cynthia Weil gem.
You've undoubtedly heard these songs before, but we guarantee you've never heard them sung like this.
On American Road, Tierney and the band interpret Americana classics and pay tribute to some of the country's most celebrated composers of all time. The album features dramatic, back-to-back readings of the Stephen Sondheim/Leonard Bernstein-penned West Side Story classics "Somewhere," "Something's Coming" and "Cool," and a trio of consecutive Gershwin standards from the iconic musical Porgy and Bess: "It Ain't Necessarily So," "Summertime" and "My Man's Gone Now, " among its repertoire.
"We first started looking at an 'America'-themed CD three or four years ago," says Sutton, whose vocal style has been described as "soft as silk and smooth as fine bourbon" by the Chicago Sun Times. Circumstances led the group in a different direction at the time, the result being 2009's Desire, which earned the group its third consecutive GRAMMY nomination for Best Vocal Jazz Album. The two other nominations were for I'm With The Other Band and
On The Other Side.
Produced by Elaine Martone, all of the arrangements on American Road were conceived by the entire band, which, said The New York Times, has "refined the kind of rapport that could only be achieved over time…providing a continuous flow of support, strength and inspiration." But the concept that ultimately gave rise to American Road, stayed with Sutton and the band—Christian Jacob (piano), Kevin Axt (acoustic and electric bass), Trey Henry (acoustic and electric bass) and Ray Brinker (drums and percussion)—while spending countless days and nights traveling America's roads and playing in her towns and cities, they finally brought it to fruition. And, on America's road, The Tierney Sutton band continues, leading up to the Feb. 12 GRAMMY telecast which hopefully proves the fourth time is the charm!
Tour dates include:
January 6, 2012 - Vitello's Jazz and Supper Club - Los Angeles (Studio City) CA
January 19 - Scullers Jazz Club, Boston, MA
January 21 - The Iron Horse Music Hall, Northampton, MA
January 24 – 28 - Birdland, New York City, NY
Press contact: Sheryl(at)eastwestmedia(dot)net
###