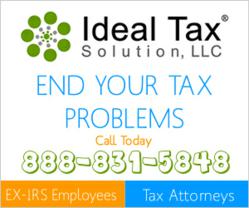 So go, good Samaritans! Donate your little hearts out before the month runs out
Costa Mesa, CA (PRWEB) December 21, 2011
While many Americans are less than chipper during the holiday seasons due to debts owed to the IRS, it's the end of yet another year and news of year-end tax tips have been released. While the year has almost met its end, there is still some time to utilize these tax benefits- but hurry; they are only available until December 31st. The IRS released some nifty tips for reducing 2011 taxes.
First on the list is to make charitable contributions. You must have donated the items prior to December 31st and the donations must be in decent used condition in order to be deductible. For cash donations, a cancelled check, bank statement, or written statement from the charity must be provided. If the donations were charged to a credit card before December 31st, they can still be claimed, even if they aren't paid off until 2012. Donating clothing and household items also require a receipt of some sort in order to be deducted. So go, good Samaritans! Donate your little hearts out before the month runs out.
Next on the list is to install energy efficient home improvements. Installations such as insulation, new windows, and water heaters, can provide up to $500 in tax savings. Those planning to go green can benefit from the Residential Energy Efficient Property Credit. Making home improvements such as these can allow you to benefit from one of these two credits available. And remember, keep your receipts!
Third on our list is to consider a portfolio adjustment. By evaluating investments for gains and losses one may find their net capital losses are more than the $3,000 standard and the excess may be carried forward for deduction in future years.
Fourthly the IRS is recommending Americans contribute the maximum to retirement accounts stating "Elective deferrals you make to employer-sponsored 401(k) plans, or similar workplace retirement programs for 2011, must be made by Dec. 31. However, you have until April 17, 2012, to set up a new IRA or add money to an existing IRA and still have it count for 2011. You normally can contribute up to $5,000 to a traditional or Roth IRA, and up to $6,000 if age 50 or over. The Saver's Credit, also known as the Retirement Savings Contribution Credit, is also available to low- and moderate-income workers who voluntarily contribute to an IRA or workplace retirement plan. The maximum Saver's Credit is $1,000, and $2,000 for married couples, but the amount allowed could be reduced or eliminated for some taxpayers in part because of the impact of other deductions and credits."
Fifth on the list is to make a qualified charitable distribution. This allows folks over 70 years of age to donate money straight from their retirement to a charity and exclude the amount from their gross income. The maximum exclusions for this tax benefit is $100,000. And finally, last, but not least, don't overlook the small business health care tax credit. Small businesses who pay at least half of their employees' health insurance premiums can qualify for a tax credit of up to 35 percent of the premiums paid. And to add one final tip, Americans must remember to always keep their receipts and records that relate to your taxes. This assists in quick and accurate tax return filings at the end of the year. For more information on the year-end tax benefits see http://www.irs.gov.
Tax professionals are encouraging tax payers to utilize these tips and to seek assistance with tax debts owed from the past.
About the company: Ideal Tax Solution, LLC is located in Costa Mesa, CA and provides tax negotiation services, preparation and is a collection defense specialist. Their Tax Attorneys, IRS Enrolled Agents, CPA's, Senior Tax Consultants have over 55 years of combined experience working to help American tax payers with the IRS and State Tax Agencies. Ideal Tax boasts an "A" rating with the Better Business Bureau earned through providing excellent services.
###