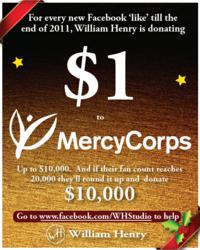 'like' our Facebook page, and you'll be helping a great organization in its effort to bring relief in the most remote and troubled parts of the world
(PRWEB) December 23, 2011
William Henry announced today its end year Facebook drive to support Mercy Corps. The Oregon based luxury brand will donate $1 for every new facebook 'like' it receives before the worldwide end of the year, up to a maximum of $10,000.
"In any business, in any life in fact, it is essential to share the good times with as many people as you can" - says Matt Conable, founder and creative engine of William Henry. "We are ending a good year, and we are fortunate to be able to take this opportunity to help support the exceptional work of Mercy Corps. Take 15 seconds of your time, 'like' our Facebook page, and you'll be helping a great organization in its continuing effort to bring relief in the most remote and troubled parts of the world."
Mercy Corps is an American non-governmental organization whose mission is to alleviate suffering, poverty and oppression by helping people build secure, productive and just communities. Since the year of its foundation in 1975, Mercy Corps has helped millions of people grappling with the toughest hardships survive - and then thrive. Go to http://www.mercycorps.org to learn more about Mercy Corps' amazing work.
About William Henry
William Henry is an American luxury brand devoted to the vision of designing and creating superlative functional jewelry. Designer and entrepreneur Matt Conable founded the company in 1997 and is now the sole owner. Conable first established the brand creating exclusive and award-winning pocketknives, effectively transforming the archetype of all tools into a superb piece of functional jewelry for men. Today's collections include writing instruments, money clips, and golf tools.
The seamless integration of classic natural materials, precious metals & gemstones, and state-of-the-art alloys is a hallmark of William Henry's work. The brand creates limited editions only, and no two pieces are ever replicas. William Henry's collections are available on its website and through a select network of authorized retailers in the US and abroad.
###