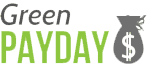 Green Payday has worked hard to make the payday loan experience on the website as secure, fast, and simple as possible.
(PRWEB) December 22, 2011
Green Payday has re-launched with a streamlined application and numerous new features to help consumers. In an economy that has exasperated financial problems for the American public, Green Payday is striving to help American families make sound financial decisions by educating the public about the array of payday loan help currently available. Green Payday's redesigned website has been optimized to assist consumers by helping them understand the importance of making responsible lending decisions while offering them a place to find convenient, secure debt relief.
"Green Payday has worked hard to make the payday loan experience on the website as secure, fast, and simple as possible," says Green Payday spokesperson Tom Breslin. "A new application enables fast and easy loan processing, while added security features and easy-to-understand articles on responsible lending help make the loans the safest online."
When a consumer visits Green Payday, they will find myriad articles outlining specific examples of how to use, and how not to use, payday loan help to get out of a short-term economic crisis. In addition to the informative articles that educate potential borrowers, the individual will find a short, convenient online application. By using some of the latest in Internet security software, the online application, and all information entered into it, is always 100 percent secure.
Once the application has been pre-approved—a process which takes place at the speed of the Internet—the potential borrower is matched with a number of potential lenders who can offer payday loan help in times of emergency circumstances. The potential borrower then has an opportunity to review a number of proposals to find the one that he or she feels will meet their needs most effectively. There is no obligation to accept any of the loan proposals that this network of lenders provides to the borrower.
Should the borrower decide to accept the terms of one of the loan proposals provided, they will receive their money in a matter of hours, deposited directly into the bank account they choose. The borrower never has to leave their home or office to sign or notarize any documents, and even the payment can be withdrawn automatically from their account on a specified date.
Green Payday is a great choice for financial emergencies and has dedicated itself to educating American families about the resources available for payday loan help. By visiting the re-launched Green Payday, consumers can inform themselves about the options currently available in the payday loan marketplace and enjoy an optimal payday loan experience.
###