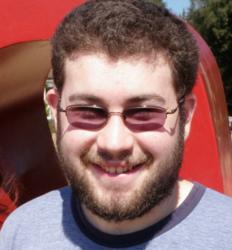 Zombie noir is fun, accessible, and puts some VERY unusual spins on the hard-boiled detective genre that should satisfy both gumshoe fans and paranormal enthusiasts alike.
Leesburg, VA (PRWEB) December 22, 2011
Curiosity Quills Press is proud to announce the inclusion of another talented and prolific author to their growing catalogue of digital, print, and serialized works – Michael Panush, the twenty-two-year-old California author whose Clark Reeper Tales set him apart from the crowd and earned him the distinguishment as one of Sacramento's most promising young writers.
Michael has published numerous short stories in a variety of e-zines including: AuroraWolf, Demon Minds, Fantastic Horror, Dark Fire Fiction, Aphelion, Horrorbound, Fantasy Gazetteer, Demonic Tome, Tiny Globule, and Defenestration.
Currently attending UC Santa Cruz, Michael still manages to find the time and energy to write, write, write – labor whose fruits will soon become available for all Curiosity Quills Press readers, as well as retail consumers.
Originally published on http://FictionPress.com, Michael Panush was recruited when it became quickly apparent that the Curiosity Quills team was hooked on his self-described "Zombie Noir" style of storytelling.
"Michael Panush's work has a broad appeal, and it's easy to see why," tells Lisa Gus, Curiosity Quills Press Marketing Director. "Zombie noir is fun, accessible, and puts some VERY unusual spins on the hard-boiled detective genre that should satisfy both gumshoe fans and paranormal enthusiasts alike."
"Mr. Panush is a one-of-a-kind treasure in an oversaturated action/adventure genre," chimes in Eugene Teplitsky, "and is sure to stand out in both the electronic format and on real-life physical bookshelves."
The first property to be introduced is the Stein & Candle franchise:
"Morton Candle is a hardboiled ex-paratrooper just back from storming across Europe. Weatherby Stein is a fourteen-year-old boy genius and scion to the greatest occult family in Europe. Together, they form the Stein & Candle Detective Agency – ready to take the weirdest jobs in the Freewheeling Fifties. This pair of paranormal gumshoes has the brains and brawn needed to take on monsters, madmen and magic – all to close a case."
Stein & Candle will be initially serialized through CuriosityQuills.com, followed by the release of three anthologies throughout 2012.
The three anthologies will contain twenty-one unique short stories collectively, each following a specific case faced by Stein and Weatherby:

In addition to Stein & Candle, Curiosity Quills Press will be rolling out another Michael Panush franchise – El Mosaico:
"Clayton Cane is one of the most feared bounty hunters in the bloody American Old West. His hideously scarred face has earned him a dreaded nickname – El Mosaico. But the truth behind those scars is that Cane is no normal gunslinger. He's a patchwork man, created from pieces of corpses sewn together and given life by black magic. And the blistering gunfights, heartless outlaws and legendary monsters that Cane encounters are far from normal. In these ferocious stories of outlaw violence, Clayton Cane is pitted against the weirdest the Wild West has to offer."
Just like Stein & Candle, El Mosaico will be serialized, then published across two anthologies, encompassing sixteen exciting short stories:
Finally, Michael Panush pulls Horrrorwood P.I. out of his bottomless literary hat, a hard-boiled detective tale with a twist:
"Dwight Harrow is a tough LA private eye with a scarred-up mug and a bad attitude – but he's more than just another hardboiled shamus. See, Dwight is a patchwork man, the result of an insane Nazi experiment during the Second World War. The black magic of the Nazis created an ultimate soldier, forged from pieces of dead American GIs harvested from the battlefield. An elite squad of US paratroopers busted him out and welcomed him into their ranks. Now that the war is over, Dwight's decided to use his strength, knowledge of the occult and sheer power to become Hollywood's number one paranormal detective to the stars. Whether dealing with ghouls, ghosts, gangsters and glitz, Dwight and his secretary, the brilliant Sophie Gold, are never at a loss."
All three properties will be making their way to Curiosity Quills Press readers in 2012. Stay tuned right here at Curiosity Quills!
About Michael Panush
Michael Panush is the author of Clark Reeper Tales, his first novel. Michael began telling stories when he was only nine years old. He won first place in the Sacramento Storyteller's Guild "Liar's Contest" in 2002 and was a finalist in the National Youth Storytelling Olympics in in 2003. In 2005, Michael's short story entitled, Adventures in Algebra, won first place in the annual MISFITS Writing Contest.
In 2007, Michael was selected as a California Art's Scholar and attended the Innerspark Summer Writing Program at the CalArts Institute. He graduated from John F. Kennedy High School in 2008 and now attends UC Santa Cruz.
About Curiosity Quills Press
Curiosity Quills Press (http://curiosityquills.com), launched in June, 2011 by writers, for writers, out of a common frustration with the state of publishing today. Instead of relying on readers to sift through the so-called "Amazon slush-pile", CQ presents a uniformly top-notch level of quality, tastefully curated, hard-hitting storylines, and memorable characters readers won't forget amidst their Kindle downloading sprees.
We know it's hard to stand out from the crowd when it's millions large, but Curiosity Quills Press helps level the playing field through its members' innovative social media approach, a transparent culture, and a deeply passionate team.
# # #