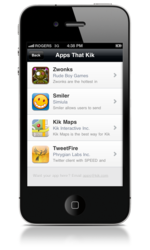 WATERLOO, Ontario (PRWEB) December 22, 2011
Starting today, any mobile developer can add instant content sharing to their app with the launch of the Kik API. In addition to the API, Kik is updating its iOS and Android messaging apps with a new app-discovery service. Apps That Kik enables Kik users to discover and download Kik-enabled apps right inside Kik Messenger.
When Kik Messenger launched in October 2010, it saw amazing viral growth, hitting over two million users in just three weeks. Now, Kik hopes to help developers achieve the same immediate growth and momentum using its API. Developers will have the advantage of Kik's fast and reliable communication platform, and its millions of app-savvy, cross-platform users around the world.
With the Kik API, Kik Messenger handles the transmission of content from one user to another, facilitating app-discovery. Users are effortlessly driven to new apps. In addition, the Apps That Kik feature provides a list of Kik-enabled apps in an easily accessible place.
"Part of what has made Kik Messenger such a success has been connecting people anywhere while keeping the app experience very fast and easy to use," said Ted Livingston, CEO of Kik Interactive. "The launch of the API and the addition of the Apps That Kik discovery service provide an insanely simple solution to drive app adoption for developers."
Initial apps in the public API launch include:

For a developer, implementation of the API couldn't be easier:
A developer simply chooses the most shareable and clickable content within their app, and by adding only five lines of code can begin connecting users via Kik Messenger.
Developers interested in giving their app a Kik with today's new API can visit: http://www.kik.com/dev
For consumers, finding and sharing apps using the API is a snap:
With the new Kik Messenger for Android and iOS, users can find and share new apps as easily as they would add an emoticon to a texting conversation. To access and add great new apps from Apps That Kik, users simply start a conversation and press the "+" button. It's that easy! Users can also find all the great API-enabled apps online at http://apps.kik.com.
Download Kik Messenger today for iOS, Android, BlackBerry, Windows Phone 7 or Symbian: http://m.kik.com
About Kik
Kik Interactive is all about sharing and connecting. Kik Messenger is a cross-platform application that allows real-time instant messaging and photo sharing for individuals, groups. The Kik API allows third party developers to add messaging and content sharing to any app. Kik was created by a team of students at the University of Waterloo and was launched in October 2010 to unprecedented success. Today millions of people around the world are enjoying Kik Messenger. Kik Interactive is based in Waterloo, Ontario.
###