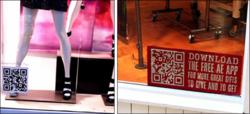 "Fashion, beauty and electronics retailers, which like to be seen as being on trend, are leading the retail industry with their use of QR codes"
Arlington, MA (PRWEB) December 22, 2011
QR Codes are being used by 7.2% of mall retailers this 2011 holiday season, according to a new QR in Retail study released today by Massachusetts-based Nellymoser, Inc., a mobile marketing and technology company. Most of the retailers using QR codes offer teen and young adult fashion, beauty products or mobile electronics, including aerie, American Eagle, AT&T, BCBG Max Azria, Best Buy, Express, Forever 21, Gap, Journeys, PacSun, Sephora, Sprint, T-Mobile and Verizon.
Retailers are using QR codes as part of a mobile strategy that extends beyond the brick-and-mortar store location. Many stores have designed their own iPhone and/or Android apps that can be downloaded in one step via QR codes. In most cases, these apps go beyond providing basic product information and include styling advice, loyalty programs, social media or check-in incentives, and location-based discounts.
A common practice, the study finds, is to incentivize shoppers to interact with the brand using a mobile phone by offering discounts, special offers, opportunities to enter a sweepstakes to win prizes, or gifts with purchase. Some merchants incorporated a social media component with sharing as well as check-ins to FourSquare and Facebook.
Shoppers could find codes throughout the store. Window decal displays, product displays and signs above cash registers were widely used. Perhaps the most surprising location was in the fitting rooms at aerie, American Eagle, PacSun and Madewell.
"Fashion, beauty and electronics retailers, which like to be seen as being on trend, are leading the retail industry with their use of QR codes," said Roger Matus, Executive Vice President at Nellymoser, and study co-author. "The trendy nature of the stores using them and their emphasis on lasting engagement with customers are strong indicators of future QR code growth."
A copy of the study can be downloaded at: http://www.nellymoser.com/qr-in-retail.
About Nellymoser
Nellymoser Inc. (http://www.nellymoser.com), a mobile marketing and technology company founded in 2000 and headquartered in Arlington, MA, creates instant, interactive consumer "engagements" on mobile phones. These range from contests and product videos to interactive multimedia engagements that can be shared on social media (e.g., Facebook and Twitter) and include e-commerce for instant product purchases. Nellymoser's customers include leading publishers, advertisers, retailers, and consumer packaged goods companies. All companies and products listed herein are trademarks or registered trademarks of their respective holders.
###