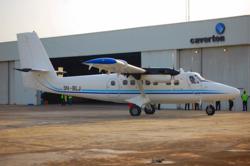 Adeniyi Makanjuola, the Executive Vice Chairman of Caverton Helicopters said "We are happy to announce Caverton's first international contract, which is an attestation of our commitment to expanding our operations beyond our home base in Nigeria."
(PRWEB) December 28, 2011
Caverton Helicopters (Nigeria) Limited has been awarded a five (5) year contract for the provision of aviation logistics support services to Cameroon Oil Transportation Company SA (COTCO). COTCO is operated by ExxonMobil, which is also a stakeholder in the company, along with Petronas of Malaysia, Chevron and the governments of Chad and Cameroon.
The contract was awarded on the 13th October 2011 for the provision of one DHC-6-300 (Twin otter) airplane. The contracted aircraft will be used for onshore pipeline surveillance and passenger transfer services. The duration of the contract is for five (5) years with the option to extend for four (4) additional years.
Headquartered in Lagos, Caverton Helicopters operates out of facilities around Nigeria and provides a range of services including transportation, maintenance, search and rescue and related logistics services to the offshore oil and gas industry as well as other business sectors.
###