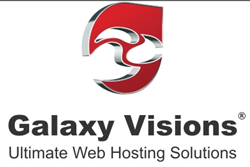 The videos are designed to be an introduction to our facility and services - and an invitation to companies big and small to assess their current solutions. GalaxyVisions can provide more services at a lower cost than any competitor in the New York area.
New York, NY (PRWEB) December 22, 2011
GalaxyVisions, the New York metropolitan area's leading provider of affordable hosting solutions, is offering a virtual tour of its world-class datacenter and services through a series of videos available today from its video library on GalaxyVisions.com.
The videos provide an inside-the-cage look at GalaxyVisions' privately owned 15,000-square-foot datacenter, located minutes from the heart of New York City. The carrier-neutral facility - which features redundant network connections, ultra-reliable power and unparalleled customer service - hosts a wide range of clients, from Fortune 500 companies and financial firms to small businesses and individuals.
"These videos are designed to be an introduction to our facility and services - and an invitation to companies big and small to assess their current solutions," said Ray Sidler, GalaxyVision's CEO and Co-Founder. "They will see how GalaxyVisions can provide more services at a lower cost than any competitor in the New York area."
Since 2003, GalaxyVisions has been offering managed Web hosting, enterprise-class managed dedicated servers and virtual private server solutions. Earlier this year, GalaxyVisions' popular colocation services were split into a separate company, ColoGuard, which is also based at the datacenter highlighted in the videos.
GalaxyVisions.com visitors can watch a 10-minute overview or shorter videos focused on a single subject. Among the topics:
Products and Services:
See why GalaxyVisions is a one-stop-shop for all your hosting needs. Many hosting companies lease space and are restricted in what they can offer by the arrangement with their landlords. Because GalaxyVisions owns its datacenter, its customers have unlimited room to grow. From Dedicated Hosting, Dedicated Server Hosting, Managed Dedicated and VPS Hosting, Virtual Private Server, Forex VPS and Colocation by its sister company, ColoGuard.
Network:
Discover why companies big and small count on GalaxyVisions' redundant networks that utilize top-of-the-line Cisco equipment and multiple Tier 1 providers for their mission-critical applications. In the event of a failure, clients are automatically rerouted to another live path. Thanks to overhead cabling, any network issues can be tracked down and resolved in seconds, not minutes.
Security:
Watch how GalaxyVisions protects its clients from intruders with some of the world's most advanced security systems. Key cards are required to enter the facility, and no one gets into the datacenter without a biometric fingerprint scan that also checks for a pulse. More than two dozen CCTV cameras record every inch of the facility - information that's kept for two months in case there are questions.
Power:
See why GalaxyVisions customers need not worry about power outages or natural disasters. The datacenter receives electricity from two separate energy providers, with outlets from each lining every rack. In the event external power is disrupted, GalaxyVisions N+2 generators will automatically reroute power with no user intervention.
Custom Monitoring:
GalaxyVisions prides itself on superior and personalized customer care - a promise that's reflected in the custom-monitoring and client-tracking solutions. Administrators can monitor any variable requested by clients, including but not limited to database health, disk space and processor utilization. Clients also can request alerts to their inboxes if there is a problem.
Other videos feature GalaxyVisions' environmentally friendly cooling solutions, its unique overhead cabling and colocation services.
To view the videos, visit GalaxyVisions' media library. To schedule an in-person tour, contact 1-800-645-0321.
About GalaxyVisions
GalaxyVisions Ultimate Hosting Solutions was founded in 2003 and is a privately held managed services provider located in the heart of Brooklyn, NY. It provides affordable hosting solutions for companies of all sizes. GalaxyVisions supplies the servers, software, bandwidth and management tools needed to run almost any web-based application. From small projects to enterprise server solutions, GalaxyVisions will meet or beat the price of any competitor. GalaxyVisions is committed to excellent quality service 24/7/365.
About ColoGuard
ColoGuard Enterprise Colocation Solutions is a subsidiary of GalaxyVisions and was born out of the increasing need for affordable enterprise colocation solutions. ColoGuard is a privately held managed colocation facility based in the heart of Brooklyn, NY, just minutes from New York City. With a state-of-the-art in-house datacenter, ColoGuard's goal is to provide affordable enterprise colocation solutions for companies of all sizes. ColoGuard's facility offers diverse network routes via dark fiber, 24/7/365 live technical support and prices and services that are unmatched by competitors.
###