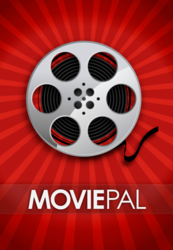 Burlingame, Calif. (PRWEB) December 22, 2011
Ever watched a movie trailer but forgot about it later? With MoviePal, available for download today, it's easy to keep track of upcoming movies (http://bit.ly/tx58JL). The latest mobile startup incubated by YouWeb allows filmgoers to capture movie trailers and then invite friends to see the latest flick when it arrives in theatres.
Like Instapaper for movies, the MoviePal app allows iPhone users to tag any movie trailer and archive it to view at a later date. With the click of a button MoviePal identifies a trailer, much like Shazam does to recognize music. As a movie trailer plays, the MoviePal app analyzes the audio content and pulls up the trailer on the iPhone. From the app, one can watch the trailer again, share it with friends (even if they don't have the app), and set a time to meet up to go to the film once it opens.
MoviePal users can:
· Discover movies playing in a theater close by
· Watch trailers for movies coming soon
· Share movie trailers and info with friends through text messages, email, Facebook and Twitter
· Get alerts when a tagged movie comes out in theaters
"The multi-billion dollar film industry focuses on the instant rush of excitement, suspense or horror that can be communicated in 30 seconds from a movie trailer," says co-founder, Suneet Shah. "Until now, there hasn't been a way to truly capture that excitement and put it in your pocket for later."
MoviePal is the brainchild of founders Suneet Shah and Rohan Relan, both Entrepreneurs in Residence at the YouWeb incubator, birthplace of successful gaming companies OpenFeint (recently acquired for $104M to GREE), CrowdStar, iSwifter and Sibblingz Spaceport, bring something unique to the incubator. While MoviePal marks the sixth incubation to launch at YouWeb, it stands alone as YouWeb's first incubation outside of gaming.
"This is a very exciting time for YouWeb, which is now on its 6th incubation with MoviePal," states Peter Relan, founder of YouWeb. "With companies in the gaming, education, and now entertainment markets, YouWeb is focusing on the social mobile intersections between these verticals. MoviePal and the talented entrepreneurs behind it are at the forefront of our new strategy."
To download the MoviePal app on your iPhone please visit: http://bit.ly/tx58JL
About YouWeb:
YouWeb was created by Peter Relan — a successful serial entrepreneur, Silicon Valley executive, angel investor, and technology veteran for over 20 years. YouWeb invests in helping brilliant developers/engineers who have never founded a start-up. Generally speaking, YouWeb's focus is consumer Internet and mobile with an emphasis on social entertainment.
###