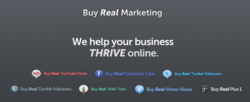 We help your business thrive online.
Cebu, CEB (PRWEB) December 23, 2011
Buy Real Marketing – a world provider of Web 2.0 Business Applications announces continuous operations for the upcoming holidays. To provide its clients with worry free service, they will be offering these services to its current clients with outstanding orders. This announcement covers Buy Real Marketing services such as Buy Real Fans and Likes, Buy Real YouTube Views, Buy Real Twitter Followers, Buy Real Vimeo Views and its sister networks.
Its sister networks, namely its Quick sites: Quick Facebook Likes, Quick YouTube Views and Quick Twitter Followers. They also have other sites such as: Buy Twitter Followers, Buy YouTube Views Fast, and More Twitter Friends. All these sites will be in operation during the holidays with no interruption whatsoever. "This season is a busy one for everyone in the world, including our business. Which is why, we felt that our customers who have last minute or sudden questions or queries can still have the opportunity to contact us with ease. Our customer representatives are always ready on the lines to answer their calls at any time of the day in all parts of the world" mentions Business Development – Managing Director, Jonathan Kennedy.
Its mother company, Clicking Labs is also keeping its network of websites such as Speedy Social and Quick SEO Results on normal operations for the public. Their hotline number is 1-877-435-5955 is available for clients who wish to contact the company at any time or any date. Operations will be uninterrupted from December 23 until January 2. To avail their services, visit their websites at http://www.buyrealmarketing.com or http://www.clickinglabs.com.
About
Buy Real Marketing is wholly owned by Clicking Labs, Inc. Clicking Labs is a well established internet marketing company founded in 2010 by Jean-Patrick Bisson, Diana Quartin and Jonathan Kennedy. The company specializes in driving search marketing and social media traffic, social web app development and conversion optimization. Each product or service specifically helps small/medium website owners increase online visibility and improve online sales.
# # #