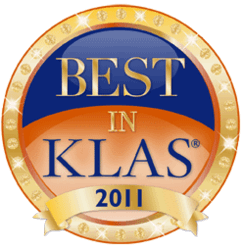 Customer Satisfaction Earns Top Ranking for Teleradiology Solutions (TRS)
New Haven, CT (PRWEB) December 22, 2011
Teleradiology Solutions (TRS), a global teleradiology provider has achieved monumental success by achieving '2011 Best in KLAS Award' for Teleradiology Services by authoritative KLAS, an independent research and consulting firm which specializes in monitoring and reporting the performance of healthcare vendors. This ranking measures performance based on customer surveys and interviews conducted by KLAS and published in the organization's '2011 Best in KLAS Awards: Software & Services' report.
The 'Best in KLAS' report is based on the performance provided by vendors in more than 100 market segments for a period of 12 months. Their performance is rated from over 18,000 interviews with healthcare providers. The 'Best in KLAS Award' is awarded to vendors who score highest in the survey for providing superior product quality, excellent service and strong customer value.
TRS was rated the # 1 national teleradiology provider in the USA in September 2011 and the '2011 Best in KLAS Award' is a remarkable achievement. Teleradiology Solutions had best customer satisfaction scores based on various factors like turnaround times, customer service, report quality and technology among others.
"This is huge for us and we will do our best to maintain it" says Dr. Arjun Kalyanpur, Chief Pusher of Teleradiology Solutions.
For more information about Teleradiology Solutions's products and services, please visit http://www.telradsol.com, email info(at)telradsol(dot)com or call (877) 295-1705.
About Teleradiology Solutions
Teleradiology Solutions (TRS), a pioneer in teleradiology was founded in 2002 by two Yale trained physicians, Dr. Arjun Kalyanpur and Dr. Sunita Maheshwari. It has provided teleradiology services to over 3 million patients in the United States (100+ hospitals) and across 20 countries globally. Teleradiology Solutions is a US Joint Commission accredited ambulatory care health care organization (JCAHO). It is also the only organization outside Singapore to be accredited by the Ministry of Health, Singapore and provides teleradiology services to 11 medical centers in Singapore under the National Healthcare group. Delivering access to expertise in radiologic interpretations across modalities and subspecialties, TRS contributes to improved quality of patient care. With consistent shortest turnaround times in the industry, TRS enhances productivity and helps in reducing overall time to diagnosis and treatment. For more information, visit http://www.telradsol.com/. Follow TRS on Twitter at https://twitter.com/teleradsol and on Facebook at https://www.facebook.com/teleradsol.
About KLAS
KLAS is a research firm specializing in monitoring and reporting on the performance of healthcare vendors. KLAS' mission is to improve delivery by independently measuring vendor performance for the benefit of our healthcare provider partners, consultants, investors, and vendors. Working together with executives from more than 4500 hospitals and more than 2500 clinics, KLAS delivers timely reports, trends, and statistics that provide a solid overview of vendor performance in the industry. KLAS measures performance of software, professional services, medical equipment, and infrastructure vendors. For more information, go to http://www.KLASresearch.com, email marketing(at)klasresearch(dot)com, or call 1-800-920-4109 to speak with a KLAS representative.
###