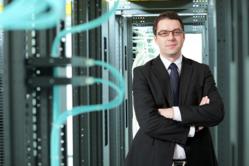 The mission of Linxdatacenter is to bring international standard and most advanced offering into the CEE and Russia.
AMSTERDAM, THE NETHERLANDS, ST. PETERSBURG, MOSCOW, RUSSIA, WARSAW POLAND, TALLINN, ESTONIA (PRWEB) December 23, 2011
Linxdatacenter St. Petersburg once again proves to offer an extraordinary proposition on a regional and international scale. Receiving such a prestigious award is especially remarkable after only two months from the official opening, performed by the Linxdatacenter CEO Jules Delahaije and Prime Minister of the Netherlands Mark Rutte.
Jules Delahaije says: "We are very proud, particularly since we had a strong competition to stand against in the group. First we had to surpass over twenty global datacenter providers. Two weeks ago that number went down to four finalists who stood next to each other in the ultimate run. Winning this award demonstrates our genuine strength and advantage in the market."
Linxdatacenter St. Petersburg is one of the largest and most advanced facilities of its kind in Russia. Covering 9.000 square meters, it is 18 times bigger than an average datacenter and has enough power and capacity to serve up to 17 million customers. Winning the Mega-Data centre Award places Linxdatacenter among Barclays, Microsoft, Fujitsu and Morgan Stanley – winners in that category of the previous editions of DatacenterDynamics Datacenter Leaders Awards.
"One of the reasons behind rewarding Linxdatacenter with the Mega DC title, besides quality and implemented solutions, was acknowledging the impressive time from the design to the deployment. Bringing to the local market such an advanced offering and high quality level in so short period is extraordinary and imposing," adds Mark Gibbs, Linxdatacenter VP Operations.
The datacenters participating in the mega-datacenter category of "DatacenterDynamics Datacenter Leaders' Awards" are the landmark that sustain today's technology-driven world. Each datacenter that has ever happened to become a winner in that category enables a quantity of transactions, storage and IT applications that make possible many business and life activities.
Richard van Wageningen, General Director Linxdatacenter Russia: "Our objective is to provide the highest quality and offer solutions that meet and exceed the requirements of our most demanding global and local customers. The mission of Linxdatacenter is to bring international standard and most advanced offering into the CEE and Russia. We are very happy to receive an award that proves the superb fulfillment of our goals. And I am confident that Linxdatacenter will maintain and strengthen its position on the market."
For further information
Linxdatacenter Marketing
Email: marketing(at)linxdatacenter(dot)com
Tel: + 31 20 567 2067
Svetlana Kigim, Linxdatacenter Marketing Manager Russia
Email: svetlana(dot)kigim(at)linxdatacenter(dot)com
Tel.: + 7 495 797 9161
Notes to the editors:
Linxdatacenter is a unique combination of cutting-edge technology, international expertise and strong regional presence. For over 11 years the company has been providing datacenter and connectivity solutions in, from and to the Central and Eastern Europe. It focuses on enterprises, operators and governments that are looking for solutions optimizing their cost, security, compliance, complexity and business continuity management.
Linxdatacenter is headquartered in Amsterdam and has offices throughout the CEE. It operates datacenters in Moscow, St. Petersburg, Tallinn and Warsaw and is a sister brand of Linxtelecom, an international connectivity solutions provider with a unique network in the region. The synergy of the two offerings provides seamless integrated solutions for the whole ICT infrastructure.
###