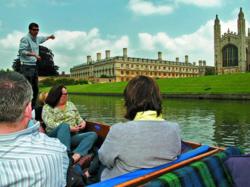 Scudamore's have been working hard to make sure that their range of products for the new season will offer customers as much variety as possible.
Cambridge, United Kingdom (PRWEB) December 29, 2011
From swooping bats to prematurely-blossoming flowers, the mild December weather has delivered plenty of signs that Spring is just around the corner in Cambridge. Before too long, the rolling lawns and secluded gardens of the College Backs will be carpeted with stunning flora.
Scudamore's Punting Company hasn't been dormant over the winter months though. As well as being open virtually every day - Christmas Day is the only punt-free day of the year - Scudamore's have been working hard to make sure that their range of products for the new season will offer customers as much variety as possible.
Scudamore's calendar of events for 2012 kicks off in February, with a week-long run of special Valentine's Day private punt tours - complete with a complimentary red rose. Tours will be available from Friday 10th until Saturday 18th February.
After the success of last year's partnership between Scudamore's and the Wildlife Trust, there will be a continuation of nature-related events during 2012. As well as a repeat of the popular bat safari tours, which will run each Friday between May 18th and September 14th, there will be a short trial run of a more general wildlife punting experience. Further details on this will follow in the New Year.
Cambridge University May Week takes place during the week commencing Monday June 18th 2012 and Scudamore's will be offering both self-hire and chauffeured punts to watch the College fireworks. Clare College and Trinity College will be putting on displays on the Monday night, with St. John's College following suit on Tuesday 19th June.
Scudamore's and Visit Cambridge will join forces once again during October to deliver a run of their renowned Punting & Walking Ghost Tours. These 90 minute excursions take customers deep into the darker side of Cambridge's supernatural history. Halloween tours in 2012 will take place each evening between Wednesday 24th and Wednesday 31st October.
For customers who haven't got their fix of ghoulish goings-on by the end of October, Scudamore's and Visit Cambridge will be running another series of tours over the Christmas and New Year period. These will take place each day between Saturday 8th December 2012 and Wednesday 2nd January 2013.
For all enquiries about any of the events listed above, please telephone one of Scudamore's Bookings Team on 01223 359750 or visit http://www.scudamores.com
About Scudamore's Punting Company
Punts were introduced to Cambridge as pleasure craft in Edwardian times. One of the pioneers of punt hire on the River Cam was Mr F. Scudamore, who founded his business in 1910, quickly establishing punting as Cambridge's favourite pastime. Today, Scudamore's Punting Company continues the proud tradition of its founder and now owns the world's largest fleet of punts, with over 150 craft available for hire along two routes.
###