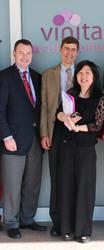 A testimony to the extraordinary diversity of scents, flavours, grape varietals and excellence of Italian wine tradition.
Verona, Italy (PRWEB) December 22, 2011
Christmas is just a few days away so that OperaWine (http://www.operawine.it) is thrilled to announce the list of the "Finest Italian Wines: 100 Great Producers." The list represents the excellence and diversity of all regions from the Italian peninsula and will be a showcase when the grand tasting on 24th of March will take place in Verona.
The selection of winemakers for the official opening event to Vinitaly 2012 also marks a special occasion for the American lifestyle magazine Wine Spectator as "we hope the event will serve as a showcase to demonstrate the breadth and quality of the Italian wine industry today," said Thomas Mathews, Executive Editor, Wine Spectator.
"We are pleased by the enthusiastic response to this inaugural tasting with Vinitaly, from both Italian wineries and the general public. Though we began the process with a goal of including 100 great Italian producers, we recognized from the beginning that many more producers merited inclusion than we would be able to invite. As it turns out, interest has been so great, and the number of wineries declining our invitation so small, that there will be more than 100 wineries attending the event. While logistical constraints prevent us from continuing to expand, we believe our attendees will welcome these 'bonus' wines to the tasting," emphasising that wine aficionados will have a supplementary wine to sample.
Stevie Kim, General Coordinator of Vinitaly International and the new project OperaWine added, "We are looking forward to best promote Italian wines to the international market and bring home the Vinitaly Wine Affair after travelling the globe. From Verona to Moscow onwards to Washington, New York and Hong Kong (VinitalyTour 2011) back to Verona. Here we seek to make people fall in love with Italian wines all over again."
For wine lovers that cannot wait to learn more about the producers, http://www.operawine.it features a series of small interviews and more materials on how Italian wines captivates the passion of people to fall in love with them. Moreover, more detailed information on some of the prominent brands featured in "Finest Italian Wines: 100 Great Producers" can be found in the OperaWine communication releases. Last weeks' two new additions Casanova di Neri and Biondi-Santi from Montalcino in the heart of Tuscany, were described in: "OperaWine meets the tenors of Tuscan wines: Biondi-Santi, Casanova di Neri, Antinori and Frescobaldi." The release focused on Tuscany, the region with the perhaps greatest concentration of renowned wine makers from Italy.
OperaWine wishes you a Merry Christmas with the, from Wine Spectator carefully chosen great Italian wine makers. The list below being a testimony to the extraordinary diversity of scents, flavours, grape varietals that ultimately highlight the excellence of Italian wine tradition.
Abbazia di Novacella
Aldo Conterno
Allegrini
Altesino
Antinori
Argentiera
Argiolas
Arnaldo Caprai
Avignonesi
Barone Ricasoli
Bellavista
Bertani
Biondi Santi
Bisol
Braida di Giacomo Bologna
Bruno Giacosa
Ca' del Bosco
Cantina Terlano
Carpenè Malvolti
Carpineto
Casa Vinicola Zonin
Casale del Giglio
Casanova di Neri
Castellare di Castellina
Castello Banfi
Castello di Ama
Castello di Volpaia
Castelluccio
Ceretto
Ciccio Zaccagnini
Col d'Orcia
Cusumano
Damilano
di Majo Norante
Donnafugata
Drei Donà
Duca di Salaparuta
Ercole Velenosi
Falesco
Fattoria del Cerro
Fattoria di Felsina
Fattoria Le Pupille
Fattoria Zerbina
Ferrari F.lli Lunelli
Feudi di San Gregorio
Fonterutoli
Fontodi
Gaja
Galardi
Gancia
Giuseppe Mascarello & Figlio
Hofstatter
Leonildo Pieropan
Les Crêtes
Librandi
Livio Felluga
Luciano Sandrone
Lunae Bosoni
Lungarotti
Marchesi de' Frescobaldi
Marco Felluga
Masciarelli
Masi
Mastroberardino
Mastrojanni
Mezzacorona
Michele Chiarlo
Mionetto
Mirafiore
Montevetrano
Nino Negri
Nozzole - Folonari
Paolo Scavino
Pecchenino
Petrolo
Pio Cesare
Planeta
Prunotto
Renato Ratti
Roberto Anselmi
Rocca delle Macie
San Felice
Santa Margherita
Silvio Nardi
Siro Pacenti
Suavia
Tasca d'Almerita
Tedeschi
Tenuta dell'Ornellaia
Tenuta di Biserno
Tenuta San Guido
Tenuta San Leonardo
Tenuta Sette Ponti
Tenute Sella & Mosca
Terre Bianche
Terredora di Paolo
Testamatta - Bibi Graetz
Tommasi
Tormaresca
Umani Ronchi
Valdicava
Vietti
Zenato
About:
"OperaWine" (http://www.operawine.it) is an innovative project, designed to cultivate knowledge on the excellence and diversity of the finest Italian wines and simultaneously give wine lovers the chance to experience unique, historical and cultural sites within the Italian peninsula. OperaWine is discovering the traditions, identity and heritage of the food and art in Italy, whilst falling in love with Italian wines. Exclusive initiatives related to Italian wine, food and culture is to encourage international operators, journalists, sommeliers, wine educators, and high profile wine aficionados alike to explore the fascinating history and context of Italian wine production.
Wine Spectator is the world's leading authority on wine that reaches more than 3 million readers worldwide, the brand also encompasses a web portal, mobile platforms, and a series of signature events. It examines the world of wine from the vineyard to the table, exploring wine's role in contemporary culture and delivering expert reviews of more than 15,000 wines each year. Wine Spectator is solely responsible for the choice of producers at the event.
Vinitaly is the largest wine fair in the world with over 4,500 producers and 150,000+ visitors (including 45,000 from foreign countries). The event is held every year in Verona, Italy (46th edition: Verona 25-28 March 2012).
For further information, please contact:
media(at)operawine(dot)it
http://www.operawine.it
tel: +39 045 8101447
# # #