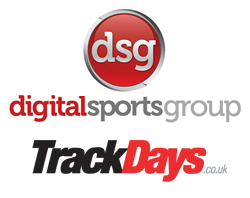 Digital Sports Group the UK's largest independent digital sports broadcaster.
(PRWEB UK) 23 December 2011
Digital Sports Group, acquires the leading adrenalin fueled experience company in the UK, Trackdays.co.uk, in what will be a very exciting partnership.
Digital Sports Group Ltd (DSG) established in 2009 is now the largest independent sports news broadcaster of online content with over 10 million unique users. Each of its carefully tailored websites cater for the different individual needs of users.
Within each sport users can access a plethora of products and services including news, blogs, forums, tweeting through to the organising of fixtures, posting results, purchasing discounted equipment, video streaming and social networking.
Specialising in the needs of the fan on the football terrace at football.co.uk to the county cricket player at cricket.co.uk to the petrol head enthusiast on motorsport.co.uk; this is what's important to DSG.
Trackdays.co.uk is well established as the largest provider of driving experiences in the UK.
Founded in 2003 and rapidly 'opening its wings' they now encompass a comprehensive list of 'own vehicle track days' for either motorbike or car enthusiasts held at the UK's best race tracks and airfield circuits up and down the country.
This is in addition to a 'mind bending' number of experiential driving activities in the worlds best range of super cars, flying planes, rallying, off road 4x4, motorcycles, powerboats, tanks and so much more. All of which are available throughout the year Nationwide.
Forward thinking Trackdays.co.uk has now released its own new brands, recognising the broad reach and appeal of this massive market and is looking to capture a greater part of it: Flydays.co.uk, Extremedays.com and Dreamdays.co.uk. "People, naturally, want to enjoy themselves and it's in our human nature to look for new and different ways to satisfy that feeling. Our group of websites combines all the best experiences out there and puts them into a place where people can easily browse and select at the best prices," says (Marketing and Event Manager) Mark Rusted.
Simon Boynton (Managing Director of DSG) confidently stated "This is a partnership that makes a huge amount of sense. Both of these companies share exactly the same 'customer profile'. Both are male dominated and appeal to the type person that has a real passion for life and adventure.
The 'cross-over' of our customer base means we have an abundance of new directions and opportunities we can take. It's a very exciting time for both companies."
# # #