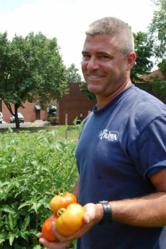 "It goes without saying that your blend of wonderful food and environmental sustainability is exemplary," Fishman wrote to the company following his event. "I hope prospective clients will be beating down your doors to get on your calendar."
College Park, MD (PRWEB) December 22, 2011
La Prima Catering, a local company that offers corporate and special event catering, as well as a nutritious lunch program for area schools, teamed up with Groundworks Farm of Pittsford, Vermont this month to cater a festive vegetarian Bat Mitzvah celebration in Bethesda, MD.
"We developed the menu around organic vegetables from Groundworks Farm," said Chef Kyle Vermeulen. "We used leeks from the farm for potato and leek soup shots; roasted carrots and turnips in a harvest vegetable dish, and butternut squash in the pasta entrée course. We also served mesclun and beet salad with red and golden beets from Groundworks Farm and freshly-picked mesclun from our own garden."
La Prima grows organic vegetables and herbs in a large urban garden onsite at its College Park headquarters. The company harvested more than 750 lbs of fresh tomatoes and more than 250 lbs. of basil this past summer, in addition to smaller quantities of a wider range of crops.
"The food was fantastic!" said client Doug Fishman, a science teacher at Burgundy Farm Country Day School in Alexandria, VA. "My only complaint is that we don't have enough leftovers to last us a week, although we do have several days' worth."
"It goes without saying that your blend of wonderful food and environmental sustainability is exemplary," Fishman wrote to the company following his event. "I hope prospective clients will be beating down your doors to get on your calendar."
Groundworks Farm owners Margaret Evans and Kevin Brown are former students of Fishman, a relationship that led to this unique pairing for his daughter's celebration. La Prima regularly consults with Groundworks Farm and two small farms closer to home—Open Book Farm in Myersville, MD and Anam Cara Harvest of Orrtanna, PA—to ensure its gardening practices conform to organic standards. In turn, La Prima donates used buckets, containers and equipment to support these farm ventures.
La Prima Catering kitchens operate in five locations throughout the Washington, Baltimore and Philadelphia metro regions, providing unsurpassed service that is fast and flexible. The company's Simple Elegance division offers a delicious, contemporary menu full of imagination and style for memorable special events such as weddings, corporate galas, religious celebrations and other important occasions.
Follow La Prima Catering on Facebook, and check out a sample menu.
###