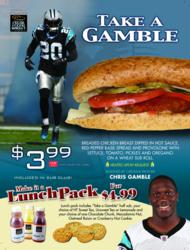 Charlotte, N.C. (PRWEB) December 24, 2011
What: Harris Teeter Gives Shoppers Opportunity to Meet Carolina Panther Chris Gamble over Lunch
Gamble to Sign Autographs, Sample Signature Sub Sandwich, Introduce Fans to Must-Have Meal for Sack Lunch
Date: Tuesday, Dec. 27, 2011
Time: Noon – 1:00 p.m.
Where: Harris Teeter: Morrocroft Village
6701 Morrison Blvd
Charlotte, N.C. 28211
Interviews are available. Live shots are welcomed!
Tuesday, Dec. 27, Carolina Panthers cornerback, Chris Gamble will team up with Harris Teeter to debut Gamble's personally designed Signature Sub Sandwich which is guaranteed to fill even the largest appetite.
Gamble's sandwich "Take a Gamble" is a must-try for Harris Teeter shoppers. For only $3.99, fans can satisfy their appetite with Gamble's Signature Sub Sandwich: a breaded chicken breast dipped in hot sauce topped with provolone, lettuce, tomato, and pickles, sprinkled with oregano on a wheat sub roll flavored with red pepper basil spread. Shoppers can also purchase Gamble's Signature Sub Sandwich in a lunch pack for only $4.99. The lunch pack includes "Take a Gamble" half sub; a choice of Harris Teeter Sweet Tea, Unsweet Tea or Lemonade; and a choice of one Chocolate Chunk, Macadamia Nut, Oatmeal Raisin or Cranberry Nut Cookie.
"Take a Gamble" will be available in the Fresh Foods Market Sandwich Shop in all Charlotte-area Harris Teeter stores. Tuesday only, however, Gamble will make an appearance at the Morrocroft Village Harris Teeter to personally introduce shoppers and fans to his Signature Sub Sandwich. He will also be signing autographs.
Harris Teeter's Fresh Foods Market offers made-to-order sandwiches and wraps daily and is proud to introduce "Take a Gamble," Harris Teeter's fifth Signature Sub Sandwich of the season. Panthers' fans should be on the lookout for additional Signature Sub Sandwiches from their favorite players. As always, Panthers' merchandise will be available for customers to purchase at the store.
Harris Teeter is where Carolina Panthers' fans shop for groceries.
###