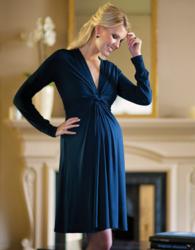 A website overhaul was needed to bring the ultimate shopping experience to its customers
(PRWEB UK) 23 December 2011
The maternity label Seraphine will be launching a new web platform in mid December 2011. Now in its tenth year, the fashionable brand has grown from strength to strength and has established itself as a leader of high quality and unique designs for pregnant women. Seraphine enjoys a huge celebrity following and has recently dressed pregnant Hollywood stars such as Jessica Alba, January Jones and Jennifer Garner as well as national fashion icons such as Dannii Minogue and Denise Van Outen in the UK.
Today Seraphine turns over £3 million online and a website overhaul was needed to catch up with the latest technology and bring the ultimate shopping experience to its customers. Using the Magento platform the website is expected to boost sales significantly due to enhanced product imagery and cross selling function as well as promotional abilities, overall improving the user experience.
The brand has a high awareness amongst its target group and has been trading online since 2004, having opened its first flagship store in 2001 in the heart of the Kensington district in London.
Cecile Reinaud, founder and head designer, recalls how after the successful opening of the first store gained national press coverage, many women living outside of London begged her to launch a website so that they could order online. Back then it was the early days for internet trading and the success of buying maternity clothes online was still in its infancy.
10 years on and Seraphine won the 2011 Drapers e-tail award for Best Specialist Online Retailer and is continually getting great press coverage for its stylish yet affordable designs for maternity and nursing products. The brand also wholesales it's collection in over 30 countries and has just launched their brand of sophisticated maternity wear in the America, hoping to seduce the yummy mummies over the Atlantic with its unique product range.
###