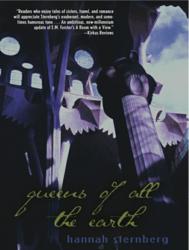 This is a compelling story with remarkable detail. You won't want to put it down until you finish.
Washington, DC (PRWEB) December 24, 2011
On December 20, when revealing its top gift books for the 2011 Christmas season, major Washington, D.C. news website The Daily Caller made an interesting choice amidst its more traditional focus on the political, the historical, and the well-established:
Queens of All the Earth, the debut novel of author Hannah Sternberg, published in October by Bancroft Press.
"This is a compelling story with remarkable detail," writes reviewer Robert Bluey, who is also the director of the Center for Media and Public Policy at the Heritage Foundation. "You won't want to put it down until you finish."
Sternberg's Barcelona-set work of literary young adult fiction, which Kirkus Reviews describes as "a new-millennium update of [E. M. Forster's 1908 classic] A Room with a View," has been riding a wave of recent praise.
On PJ Media's blog PJ Tatler, editor David Swindle wrote, "The book's prose is vivid, poetic, and rich. My eyes turn a jealous bright green at Hannah's literary abilities. Often, I'd read a passage, only to stop and reread it again to bask in its skillful construction."
And popular literary blog Chrisbookarama described the book as "a psychological study of two sisters with abandonment issues," stating that, although the blogger had not read A Room with a View, "I'm not sure how it would stand up to comparison and I liked this one all on its own."
The Daily Caller emphasizes "thought-provoking commentary," which seems to fit the general response to Sternberg's novel. "If you choose a bestseller, there's a good chance the person you give it to already has it," says the article in The Daily Caller. That's why it pays to have recommendations, and The Daily Caller strongly supports Queens of All the Earth.
Baltimore-based Bancroft Press is a leading independent house that's published some of the very best fiction and nonfiction during the past two decades.
# # #