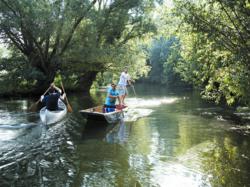 The fiercely beautiful landscape visible from Cam, as it meanders out towards Grantchester, seems to be providing the perfect backdrop for a highly satisfying winter workout
Cambridge, UK (PRWEB) December 28, 2011
Whilst the popular image of punting in the Winter may conjour up thoughts of huddling under blankets beneath gargantuan umbrellas whilst the rain pours forth, the hardy souls who have braved the River Cam over the last few months have found an entirely different scene before their eyes.
During this period, Scudamore's Punting Company have been open every day, with chauffeurs eager to demonstrate to customers that the river has a strong appeal all year round. Indeed, one of Scudamore's chauffeurs recently wrote a very interesting blog post detailing his perspective on Winter punting
The unseasonably warm weather has resulted in a larger than normal wildlife presence on the River Cam this Autumn and Winter. Consequently punters, rowers and paddlers have been out in their droves to view this ecological haven from the perfect vantage point of the river.
Spring flowers have started to push up their spikes, presaging the glorious carpet of flowers that will burst into bloom along the College Backs in the New Year. There have also been regular bat sightings - normally these mysterious creatures would be safely tucked up in bed for the Winter, but the milder temperatures have resulted in their continued presence along the Cam as soon as dusk descends.
The distinct lack of much snow and ice along the river has also resulted in far more customers choosing to take out canoes and kayaks than is normally expected at this time of year. The serenely beautiful landscape visible from Cam, as it meanders out towards Grantchester, seems to be providing the perfect backdrop for a highly satisfying winter workout. Scudamore's provide full equipment and training to anyone wishing to take advantage of this unique exercise space.
Rod Ingersent, General Manager of Scudamore's, has been delighted with the number of customers choosing to make the most of the river during the normally off-peak months: "The views from the river at this time of year, both along the College Backs and up towards Grantchester are quite stunning. We are happy to take a backseat and allow ourselves to be the vehicle which enables our customers to enjoy the star of the show - the river and its eco-systems," he said.
Scudamore's have continued to offer reasonably-priced Autumn Self-Hire Season Tickets this year, to provide the opportunity for customers to enjoy the river as many times as they like between September and March. So far, it seems to have been a great success.
About Scudamore's Punting Company
Punts were introduced to Cambridge as pleasure craft in Edwardian times. One of the pioneers of punt hire on the River Cam was Mr F. Scudamore, who founded his business in 1910, quickly establishing punting as Cambridge's favourite pastime. Today, Scudamore's Punting Company continues the proud tradition of its founder and now owns the world's largest fleet of punts, with over 150 craft available for hire along two routes.
# # #