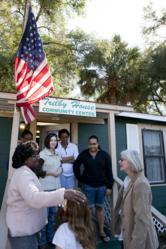 Saint Leo, FL (PRWEB) December 27, 2011
Saint Leo is one of five Southern colleges or universities recently selected to participate in the prestigious Algernon Sydney Sullivan Foundation awards program. As one of the top universities in Florida, Saint Leo University joins a group of about 60 distinguished colleges and universities that may present the Algernon Sydney Sullivan award each year. The award recognizes students, alumni and community members whose "nobility of character" and dedication to service sets them apart as examples for others.
Other institutions recently authorized to present the award include Oglethorpe University (Atlanta, Ga.), Berry College (Mount Berry, Ga.), Young Harris College (Young Harris, Ga.) and Wesleyan College (Macon, Ga.). These schools will present their first Sullivan Awards in spring 2012.
Sullivan Foundation President Stephen McDavid states, "The trustees and I feel that these five institutions and their students embody the ideal of devoted service that the Sullivan Foundation values in our Award Schools."
Saint Leo is one of the oldest Catholic universities in Florida, established in 1889. Rooted in the 1,500 year-old Benedictine tradition, the University seeks balanced growth in mind, body and spirit of all members of its community, in line with the Sullivan Foundation's mission. With a commitment to six Core Values—excellence, community, respect, personal development, responsible stewardship and integrity—Saint Leo fosters student-centered approach to teaching and learning.
"It is truly an honor to become part of the Algernon Sydney Sullivan Foundation legacy," says Kenneth Posner, Associate Vice President for Student Services at Saint Leo. "Saint Leo University's commitment to our Core Values, moral consciousness and service to the community complement the Foundation's goals, and we are humbled by the recognition and inclusion with other exceptional higher education institutions."
The Algernon Sydney Sullivan and Mary Mildred Sullivan Awards were created nearly 100 years ago to honor the service of the husband and wife for whom the awards are named. Previous recipients of the Sullivan Award, represented by a bronze medallion, range from First Lady Eleanor Roosevelt to Fred Rogers, noted star of children's television.
The Sullivan Foundation, based in Oxford, Miss., was created in 1930 to honor young men and women who show remarkable character and integrity, and who demonstrate a commitment to service to others. In addition to the five new schools including Saint Leo, the Foundation presents annual awards to graduating seniors at 56 other institutions and provides scholarships to rising juniors at 31 colleges and universities. Most of the colleges and universities are in the Appalachian region of the Southeastern U.S. Today, the Sullivan Foundation is growing beyond scholarships and awards to encourage the study of philanthropy, service and social entrepreneurship on all college campuses.
About Saint Leo University
Saint Leo ranks as one of the top universities in the South, according to U.S. News & World Report's "America's Best Colleges" list. Located 30 miles north of Tampa, Saint Leo educates more than 1,900 students. Total enrollment across its campus, regional education centers and online programs exceeds 15,000. Among the oldest Catholic universities in Florida, Saint Leo is one of the nation's 10 leading providers of higher education to the U.S. military, and is a nationally recognized leader in online education. Saint Leo University competes in the NCAA Division II Sunshine State Athletic Conference.
###