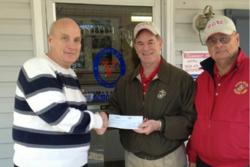 "Every child in Sanford should have something under the tree this year and a smile on their face on Christmas morning, no exceptions".
Sanford, NC (PRWEB) December 23, 2011
Tom Van de Reit, Sanford home builder and owner of Homes By Vanderbuilt, has announced a $2,500 gift to the US Marines Toys-For-Tots Foundation. The donation was made on behalf of the community of Sanford, North Carolina. The check is in addition to filling 2 large barrels of toys and comes at a time when many are finding it difficult to give. The check was presented to the USMC on behalf of the Marine's Toys-for-Tots Foundation of Sanford, NC at the Homes By Vanderbuilt headquarters and model home display in Sanford on December 20, 2011.
After reading in his local paper that the Toys-For-Tots in Sanford was in unusually desperate need this holiday season, Homes By Vanderbuilt owner Tom Van de Reit and his family decided that surrendering such a vital task in the face of a bad economy was simply not acceptable. Tom, his family and the entire team at Homes By Vanderbuilt felt compelled to help – while at the same time getting others involved as well. Tom quickly settled on an approach: After considering what might be the best way to communicate with the largest amount of people in the shortest amount of time he came to one simple conclusion: Facebook.
"We are very lucky to be able to provide toys and funding to every child in Sanford. We wanted the gift to be from everyone in our community, so we used Facebook to gather "likes" in exchange for a $5 pledge to the organization. $2,500 will go towards buying toys for the kids in Sanford that might otherwise go without. Every child in Sanford should have something under the tree this year and a smile on their face on Christmas morning, no exceptions," said Van de Reit. "It has been our experience over our many years of doing business here in the Sanford area, that the people here are very giving and genuinely care for their neighbors, so we wanted to include them in the spirit of giving with no cost to them."
Van de Reit and his family-owned modular home company have been selling and building modular homes in North Carolina, South Carolina and Virginia for over 30 years. Though the home-building industry has slowed over the past few years, Homes by Vanderbuilt's success has continued due to their flexibility in offering affordable new homes.
"With Facebook, we are able to receive help and "Likes" from all over the world, which is just really amazing for an old guy like me," says Van de Reit. "I'm amazed at the global attention you can achieve for a local event."
For more information about Tom Van de Reit and his company, please visit Homes By Vanderbuilt. Of course, you can also find him on Facebook.
###