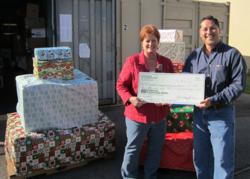 "FIES provides incredible support to our community and I am honored to be able to support such a noble organization. This is what the Christmas season is all about." said Diaz.
Fullerton, CA (PRWEB) December 22, 2011
Fullerton Interfaith Emergency Service, Inc., or FIES, is a cooperative community non-profit established in 1975 that provides food, transitional housing and other support services to the hungry and homeless in the community.
Diaz has been a member of Fullerton South Rotary since 2008. Fullerton South Rotary's largest fundraising event is Fullerton Uncorked, a food and wine event highlighting the best Fullerton has to offer annually on the last Saturday of September. Fullerton Uncorked helps the club raise over $100,000.00 per year that the club distributes to charities in and around Fullerton.
A lifetime resident of Fullerton, Diaz also owns Western Beef & Seafood. Charity is important to Diaz, so important that he built it into the business model of his latest business venture, Fundraisewithfood.com. This company allows organizations to provide supporters the means to purchase high-quality, frozen groceries that are delivered to their home while giving back 20% to their fundraising organization. To register a fundraising organization, visit http://www.fundraisewithfood.com.
Individuals may contact Andy Diaz at adiaz(at)fundraisewithfood.com or visit the website at http://www.fundraisewithfood.com for more information. Connect with Fundraisewithfood.com on Facebook to keep up with the latest information.
###