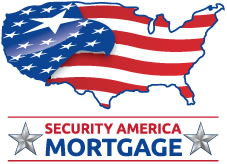 Need to refinance your monthly mortgage payments? The VA Loan Experts at Security America Mortgage guide Veterans in the U.S. to financial freedom!
Carolina, Texas, Oklahoma, Florida, Hawaii, California, Illinois, Colorado, Arkansas, Georgia (PRWEB) December 23, 2011
North Due to the overwhelming need of financial preparedness education in America for military veterans and active-duty personnel, mortgage loan support and VA loan services are now being sponsored by Security America Mortgage, Inc., the VA loan company that ranked highest by veteran home buyers as one of the top recommended companies servicing the mortgage lending industry. The VA loan experts got together within the company recently to obtain data from a social study over a group of veterans and active-duty military personnel who were previously accustomed to living on base and/or overseas in the barracks. The social experiment was acquired by Security America Mortgage in order to address the greatest core concerns and needs of the "average VA client home buyer".
HERE IS WHAT THE VA LOAN EXPERTS LEARNED ABOUT THE MILITARY MIND:
The results of the social study concluded that the majority of veterans who were fresh from living the military lifestyle had to learn how to manage money all over again, fast, and from a civilian perspective with little assistance. With the United States economy still in recession, many military families are experiencing financial depression when being faced with high monthly mortgage payments. This is especially true for military families who are welcoming their primary caregivers/veterans heroes back home from deployment in overseas.
Also, according to the data collected, most of the veterans affirmed that they have not lived the civilian life before, which was why they were less likely to know what help was out there to support them financially (or emotionally), how (or where) to get help, and more importantly - WHO to contact to get the best, most accurate, reliable information they need for the smoothest transition into civilian living.
The social study results mainly provided proof of there being a huge need for veteran community support, and since then, Security America Mortgage, Inc. have restructured their goals for launching the newly developed sponsorship programs that help to assist veterans in cities all around the United States. To start off on the right foot in the right direction toward financial freedom, the VA Loan Experts urged the press to share the benefits of the three different VA loan refinancing options - which are listed below as promised:
VA Loan Refinance Option #1 - VA Streamline Refinance - Interest Rate Reduction Loan (IRRL):
VA streamline refinancing loan can be used when you already have a VA home loan financed with your current home. The only reason you would choose to refinance would be to achieve a lower interest rate using a "VA Interest Rate Reduction Loan (IRRL)". The VA IRRL enables lower interest rates on a current VA home loan and it can be achieved with no out-of-pocket closing costs to the homeowner - which is great!
The Benefits of a VA Streamline Refinance - Interest Rate Reduction Loan (IRRL)

No appraisal required.
No income or credit background check to qualify.
No monthly mortgage insurance.
Only .5% funding fee on all interest reductions.
No out-of-pocket costs.
VA Loan Refinance Option #2 – "Cash-Out" or Debt Consolidation Refinance:
If there is equity in the current VA loan financed with the home needing to be refinanced, the VA benefits give eligible veterans the option to refinance the VA home loan currently financed on the home - and then to receive a "cash out" payment that is up to 90% of the home's equity value. The money left over from the home's appraised and calculated value can then be used for anything like;
1. Paying off credit card debts,
2. Remodeling home improvements, or
3. Save money for retirement.
The Benefits of a "Cash-Out" or Debt Consolidation Refinance:

You can take cash out up to 90% of your home
Monthly mortgage insurance is not required
No out-of-pocket closing costs
VA Loan Refinance Option #3 - Conventional to VA Refinance Loan:
The Conventional to VA Refinance option requires a funding fee, which the government charges to insure a VA Home Loan with the lender. The fee is 2.2% for veterans who are first-time users for this type of loan. The good thing about the Funding Fee is that it can be financed into the cost of the loan.
The Benefits of a Conventional to VA Refinance Loan:

No monthly mortgage insurance
The new interest rate may be lower - AND if the veteran has less than perfect credit, they may be able to get the same low interest rates available to those with great credit.
The "cash-out" option can be taken, adding up to 90% with a VA refinance
No out-of-pocket closing costs
Reducing the rate is one of the many VA loan advantages that optimize VA home loan benefits. Without a doubt, Security America Mortgage, Inc. continue to grow as VA loan experts with their knowledge and persistence in leading the driving force behind financial security and freedom for all military affiliates. For veterans and active-duty military service members who are looking to save a significant amount of money on their mortgage loan by lowering the monthly payments, using a VA loan refinance option is the first step to take in order to accomplish their home mortgage debt freedom. With a more aggressive approach to inform veterans and military members about the three different VA loan refinance options available, Security America Mortgage will help veterans learn how to use VA loans to lower their monthly mortgage payments - by hundreds and even thousands of dollars a month!
To find out which VA loan refinance option BEST FITS your home mortgage financial needs please contact a VA Loan Specialist with Security America Mortgage, Inc. - toll free: 888-864-0726!
###